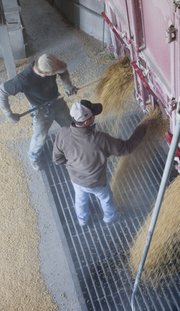 Mark Wulfkuhle, who farms west of Lawrence, recently finished up his corn harvest and is just about done cutting soybeans. So far, he's pleased with the results.
"Our corn yields were much better than we expected. Our whole farm was in the 130-140 bushel (per acre) range," he said, calling that above average. (He classified his soybean crop, meanwhile, as "right at or below average" and added that he finished planting wheat earlier this month). "This has been a blessing compared to the last two years (of drought). Last year we didn't even harvest a lot of our corn. Last year was kind of a disaster for us."
Even though the corn harvest is slightly behind schedule in the Douglas County area due to a delayed planting season and late rains, area farmers look to be getting some nice yields. Soybeans are also progressing, as many farmers started combining them while they waited for their corn to dry out. Meanwhile, much of the wheat planting in Douglas County has been completed for the year.
The local corn harvest is about 45-50 percent done, while about 60 percent of the soybeans have been cut, said Bill Wood, director of Douglas County Extension. He expects the harvest to last about another three weeks.
Chris Hetherington, who manages three Lawrence-area grain elevators for the Ottawa Cooperative Association, said he has been amazed by the quality of the corn in the area, which has been averaging more than 60 pounds per bushel.
"I've been in this business for 20 years or more and been doing what I'm doing now for 16 or 18 harvests, and I've never even come close to seeing corn come in with this kind of quality, consistently," he said. Soybeans have been closer to average, or about 57-58 pounds a bushel, he added.
Hetherington has also never seen the corn and soybean harvests start essentially on the same day, which they did this year, in the last week of September. Regardless, both are progressing now.
"We had that little rain break a while back, and it looks like we're going to get another one this week, but other than that it's been going pretty good," he said of this year's harvest. "But if we start getting some rain showers ... it could stretch out until after Thanksgiving."
Copyright 2017 The Lawrence Journal-World. All rights reserved. This material may not be published, broadcast, rewritten or redistributed. We strive to uphold our values for every story published.