Contact KU and higher ed reporter Sara Shepherd
Have a tip or story idea?
---
More stories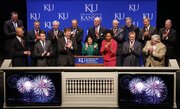 The new business school building
Slated to open in the 2015-2016 academic year across Naismith Drive from Allen Fieldhouse.
Six stories, 166,000 square feet.
Will cost $65.7 million. Of that, $55.7 million comes from private funds. The university will contribute $10 million to equip the building and move the Naismith tennis courts.
Will feature collaborative spaces for breakout sessions among students.
KU Endowment advanced the money and will act as contracting authority.
A groundbreaking for the new $65.7 million, 166,000-square-foot Kansas University School of Business building drew an excited crowd of students, alumni, university personnel and elected officials to the Lied Center Friday. At least half the excitement at the Lied was generated by a single person: KU School of Business Dean Neeli Bendapudi.
The business school has been pining for a new home for nearly two decades. When Bendapudi came aboard as dean of the school, raising the funds for new facilities was one of her top priorities, she told the Journal-World earlier this week. "My job has been to make it happen."
Asked earlier this week what she's most excited about in the school's new home, Bendapudi said, "Heating and cooling that works."
The nearly 55-year-old Summerfield Hall is sound structurally, but its water and heating and cooling systems are riddled with issues, according to Mark Strand, director of the business school's facilities management team. Summerfield's water lines are rusty and leaky. Temperature control often gets out of whack. One side of the building can get overheated, another too cold.
Along with new pipes and climate control, the new building also holds the promise of more space, updated for learning in the modern world. "We are literally bursting at the seams," Bendapudi said. The school has turned away students because they lacked physical capacity for them.
For the students who are at the school, Summerfield lacks spaces for break-out group study and project work. James Guthrie, a KU professor of business and co-chair of the committee that helped plan the building, said the new designs will also include flexible classrooms, with movable furniture and hubs of electric outlets, that allow for teamwork and breakout sessions.
The design feature is a reflection both of the changing nature of business, which is highly collaborative and more so all the time, as well as a reflection of the school's vision for the building as the southern gateway to campus along with Allen Fieldhouse.

But Bendapudi said not to expect opulence from the new building. "It's not going to be the Taj Mahal. This is Kansas," she said.
KU Chancellor Bernadette Gray-Little said at Friday's event that the building will be the biggest privately funded academic building project in KU's history. Following her on stage was Kansas Gov. Sam Brownback, who ventured to say "we can do that on all the buildings at KU." After some in the audience groaned audibly, Brownback quickly backpedalled. The moment was quickly swept away by the crowd's excitement and Bendapudi's enthusiasm.
As for Summerfield, its fate is still uncertain. Presumably somebody on campus wants it, leaky pipes and all. It will most likely be used by an academic department or student services office, said Austin Falley, a spokesman for the business school, but no specific possibilities for Summerfield's future use have been confirmed yet.

Copyright 2018 The Lawrence Journal-World. All rights reserved. This material may not be published, broadcast, rewritten or redistributed. We strive to uphold our values for every story published.