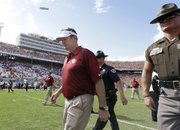 Since taking over as head coach in 1999, Oklahoma's Bob Stoops is 14-0 during the week following the Sooners' Red River Rivalry game against Texas.
If you feel like you've read this story before, that's because the schedule-makers in the Big 12 Conference have not done the Kansas University football program any favors in recent years.
The Sooners and Jayhawks have matched up following the OU-UT clash seven times during Stoops' 15 seasons in Norman, Okla., and in three of those meetings (2005, 2008 and 2009) the Jayhawks played an Oklahoma team coming off a loss to Texas. That typically has put the already powerful Sooners in a bad mood and inspired them to refocus and make a statement against their next opponent. And that's exactly what the Jayhawks (2-3 overall, 0-2 Big 12) figure to encounter at 2:30 p.m. Saturday when OU invades Memorial Stadium for the eighth time under Stoops following a meeting with the Longhorns.

"Statistically, if you go back and look at coach Stoops' record coming off the Red River Rivalry, and especially off of a loss, the numbers are almost astounding," KU coach Charlie Weis said during Monday morning's Big 12 coaches conference call. "The dominance they have shown coming off of that game … we are going to be ready for their A-game because I am sure they are not in the happiest of spirits right now."
OU (5-1, 2-1), which enters this week ranked 18th in the country, fell to Texas, 36-20, last week in a game in which most experts were predicting a Sooners romp. The loss was just the sixth suffered by Stoops at the hands of the Longhorns, but the OU coach said Monday the result would not change the way his team approached the post-Texas portion of its 2013 schedule.
"This game, win or lose, isn't the end all," Stoops said of the OU-UT match-up. "It never is. So we went back to doing our work like we always do. We've got six more conference games to go, so that's what you have to do."
Asked if having a lot left on the schedule — both for his team and the rest of the conference — brought a sense of calm for the Sooners, who still have aspirations of winning the Big 12 title, Stoops agreed emphatically.
"It's always that way," he said. "We always play (Texas) about the same time every year, so it's the same message every year: We've gotta keep playing, keep trying to get better and keep pushing each week to try to make improvement."
In five games following a Texas loss, Stoops and the Sooners have beaten their next opponent by an average score of 37-12. While the Jayhawks have been the losing foe three of those five times, KU actually has fared better than OU's big picture, losing by the average margin of 33-16 in its three chances. What's more, when it comes to OU following losses to Texas, KU does not own either the worst beating (45 points) or the highest points-allowed number (51), as the Sooners bludgeoned Texas A&M;, 51-6, during Stoops' first season at OU the week after losing to Texas, 38-28, in Dallas.
While the Sooners, who enter this week as 24-point favorites according to oddsmakers, likely feel pretty good about their chances given that they handled KU 52-7 and 47-17 during the 2012 and 2011 seasons, Stoops said his team would not take the Jayhawks lightly, particularly because of how Weis' team has played on defense.
"Probably the biggest thing you notice, watching them last week, is they forced all the turnovers," Stoops said of the Jayhawks. "I think they got five turnovers a week ago (in a 27-17 loss at TCU), so they (are) very sound, very aggressive in the way they play defensively."
KU-Baylor to kick at 6
After several weeks of late-morning and early-afternoon kickoffs, KU soon will kick off under the lights again, when it plays host to Baylor at 6 p.m. on Oct. 26 at Memorial Stadium.
The game will be televised by ESPNU, marking KU football's first appearance on the network.
No news on injured Jayhawks
Weis said during Monday's Big 12 teleconference that he would talk about the injuries to linebacker Ben Heeney, wide receiver Andrew Turzilli and running back Tony Pierson at today's news conference. Heeney and Turzilli left last Saturday's loss to TCU because of their injuries, and Pierson missed the game because of the concussion he suffered during KU's loss to Texas Tech on Oct. 5.
Copyright 2018 The Lawrence Journal-World. All rights reserved. This material may not be published, broadcast, rewritten or redistributed. We strive to uphold our values for every story published.