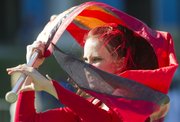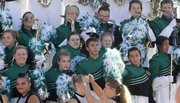 Heart of America Marching Festival results:
Outstanding Music Execution — Olathe East
Outstanding Marching Execution — Olathe East
Outstanding General Effect — Olathe East
Outstanding Auxiliary — Olathe South
Outstanding Percussion — Olathe East
Grand Champion — Olathe East
Division 4
3rd Place — Raytown South
2nd Place — Basehor-Linwood
1st Place — Maize South
Division 3
3rd Place — Gardner-Edgerton
2nd Place — Belton
1st Place — Raytown
Division 2
3rd Place — Lawrence Freestate
2nd Place — Blue Valley Southwest
1st Place — Shawnee Mission South
Division 1
3rd Place — Olathe South
2nd Place — Olathe North
1st Place — Olathe East
The Kansas University football team may have been at Texas Christian University today, but Memorial Stadium was rocking with the 22nd annual Heart of America Marching Band Festival, held by the KU School of Music, the Kansas Music Educators Association Northeast District and Meyer Music.
Shiny brass glistened in the sun while flags were twirled, dancers pranced and twirlers flung batons high into the sky. Proud parents beamed in the stands as 24 Kansas and Missouri high school bands took to the field throughout the day, playing a variety of tunes from composers and artists ranging from Beethoven to Lady Gaga.
Lisa Paschang's daughter Jackie has not been a member of the Marching Jayhawks since graduating from KU in 2009, but Paschang is still a dedicated volunteer. Paschang drove in from her home in Overland Park to spend 12 hours taking tickets at the festival's entrance gates.
Paschang said she remains so loyal to the marching band because of its inclusive nature.
"Marching band is the only activity where every kid participating is a 'starter,'" Paschang said. "There's a spot for everybody."
Showmanship was prevalent in the performances, as seen with Raytown High School, whose band members donned masquerade masks while performing pieces from "Phantom of the Opera," and St. Thomas Aquinas, whose members played "Pirates of the Caribbean" music as their color guard traded their usual school-spirit flags for pirate flags with skulls and crossbones.
Paschang said that although the musical performances may be entertaining, she considers the hard-working band members to be true athletes.
"The best thing about marching band is it's more than just pretty formations," Paschang said. "When these kids come through, they learn teamwork and competition."
It takes months of preparation to perfect elaborate numbers such as those seen at the festival. When it comes to taking home first place at a marching band competition, KU junior and Marching Jayhawks trombone player Hannah Burns said hitting the right notes is only part of it.
"Judges look for marching fundamentals like straight lines and high toes, and they listen for phrasing and tone," Burns said. "It's a combination of both marching and music."
Maize High School drum major Alex Johnson was one of the many competitors with her own cheer squad in the stadium. Her mother and father, Thumper and Allen Johnson, as well as two family friends and an aunt came out to support her.
Thumper Johnson said they made the three-hour trip because of the enormous effort her daughter dedicates to marching band.
"They put in so much work for a six-minute show," she said. "They're very dedicated."
The stiff competition and long practice days can be grueling, but she said the young musicians wouldn't have it any other way.
"These kids get so worked up about band festivals, but they wouldn't give it up for anything."
Copyright 2018 The Lawrence Journal-World. All rights reserved. This material may not be published, broadcast, rewritten or redistributed. We strive to uphold our values for every story published.