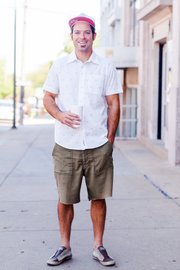 Name: Peter Carson
Age: 38
Relationship status: Madly in love!
Hometown: Minneapolis, MN
Time in Lawrence: 8 years
Occupation: Mailman
Dream job: A bed and breakfast owner on the West coast!
What were you doing when scouted? Having a conversation with my lovely girlfriend and an overall productive day.
Describe your style: Nothing fussy! I like easy, funky and casual clothes. I also like to look good so once in awhile I like to turn it in up a notch.
Fashion trends you love: I don't pay attention to that...!
Fashion trends you hate: I'm not a big tight jeans guy! I don't like them and I don't look good in them.
Fashion influences: I like used vintage clothing stores like Arizona Trading Co and Wild Man Vintage. I like local vintage stuff.
What would you like to see more of in Lawrence? More outdoor, preferably rooftop bar space and outdoor music shows!
Less of? Those inappropriately sized see through black stretchy tight pants and deadbeat dads!

Tattoos or piercings: None
Whom do people say you look like? Robert Downey Jr.
What type of music do you unwind to: Jack White, Wilco and the old Kings of Leon!
Tell us a secret: It wouldn't be a secret then, would it?
Copyright 2018 The Lawrence Journal-World. All rights reserved. This material may not be published, broadcast, rewritten or redistributed. We strive to uphold our values for every story published.