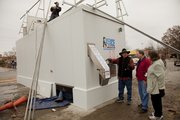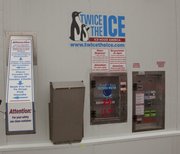 As John and Valerie Sutton worked to get their large, self-serve ice machine approved by Lawrence officials, one question from the city was met by a puzzled look.
At one point during the process, John Sutton was asked where the machine's restroom would be located. "Restroom?" he asked.
"Yeah, what about the guy in the machine?"
As Sutton would explain, there is no one inside the large metal icehouse called "Twice The Ice," set to open early this week in the lot of the Malls Shopping Center, 711 W. 23rd St. Instead, equipment initially designed by farmers from Georgia churns out up to 6,500 pounds of ice from an underground water source every six hours to be sold in 20-pound bags for $2.50.
Confusion concerning the machine's operation can be forgiven, though, as Twice the Ice is poised to be the first such operation in the city and is part of a first-of-its-kind chain of machines in the Kansas City area.
"They're really plowing some fresh ground," said Russ Robinson, owner of Heartland Ice House, an ice machine dealership he has owned for three years.
This week, Robinson, wearing a large cowboy hat, joined the Suttons to survey the final stages of construction of the Lawrence icehouse. Steady precipitation and, in a cruel twist, dropping temperatures proved a challenge. There was still electrical work to complete and a six-plus-hour sanitization process inside the machine to carry out. At worst, the Suttons said, the machine would be up and running by Tuesday at the latest.
When the Suttons, a retired couple from Olathe, decided to invest in an icehouse, they first sought locations in their hometown. But soon the couple, who say they've long enjoyed day trips to Lawrence, found a better market a little farther west along Kansas Highway 10. One day, John Sutton said, he and Valerie stood in the parking lot at the Malls and watched the amount of traffic flow by. With Robinson helping research, they found there to be an upward of 24,000 people in the one-mile radius around the lot, well above the 9,000-person mark with which Robinson said many icehouses find success.
"We all have our fingers crossed," said Robinson, who added he thought the city was capable of supporting anywhere from five to seven of the machines.
Robinson, who lives in Hillsdale, began distributing icehouses with his son after they discovered them in Southeastern states such as Florida and the Carolinas. While Kansas typically has more cold-weather months, Robinson expects the Suttons to sell as many bags of ice as they can produce from July 4 on up to the start of the school year.
"I hope you're right," Valerie Sutton said with a laugh.
From the moment cash or card is entered in the machine, Robinson said, it takes about 30 seconds for ice to reach the customer. The decision to add a card reader wasn't without cost, but when a car wash owner told Robinson that up to 60 percent of his sales were via card, it became an easy one.
In addition to the ice, the machine also dispenses one-gallon jugs of filtered water for 25 cents each or five gallons for $1.
Twice the Ice will be open 24 hours, seven days a week. At all hours, an antenna will monitor activity that the Suttons can follow at home using their smartphones, even addressing problems such as dollar bills becoming jammed.
"The biggest problem we've had with the machines," Robinson said, "is dirty bills. And that's a good problem to have."
Copyright 2018 The Lawrence Journal-World. All rights reserved. This material may not be published, broadcast, rewritten or redistributed. We strive to uphold our values for every story published.