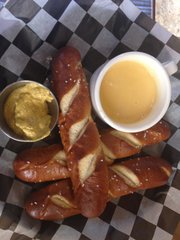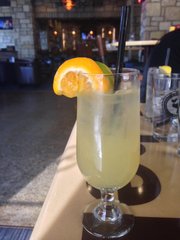 If you're the type of person who enjoys dipping doughy carbs into warm cheese, this is the appetizer for you. Three baguette pretzel sticks arrive in a paper-lined basket, and are served alongside a warm beer cheese and honey mustard sauce, for those of you who'd rather not plunge deep into cheesy bliss.
Located inside the main lobby of The Oread hotel right off campus, the Bird Dog Bar is a American sports-bar-themed restaurant, perfect for a nicer meal for on-campus students or a quiet restaurant for meetings or networking outings.
Where to get it: Bird Dog Bar at the Oread, 1200 Oread Ave.
What you'll pay: $6.95
Try it with: One of their four seasonal drinks for $7: Raspberry Limoncello Lemonade, Blood Orange Margarita, Caribbean Smash, White Wine Spritzer.
Also on the menu: Various sandwiches, salads, entrees including a 12 oz. steak and tequila-glazed chicken, five-cheese macaroni and cheese, chicken Parmesan, caprese pasta, burgers and sliders.
Copyright 2018 The Lawrence Journal-World. All rights reserved. This material may not be published, broadcast, rewritten or redistributed. We strive to uphold our values for every story published.