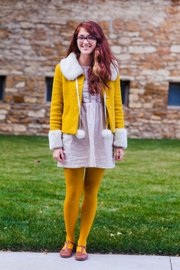 Name: Sadie McEniry
Age: 17
Hometown: Lawrence
Favorite subjects: I really like my AP Literature and Composition class because I like having discussions in school! I'm a student at LHS. I also like my "teaching as a career" class because we get to learn about different styles of learning.
Favorite hobby: I'm in Paper Buffalo! I can't describe our music but it's a really fun band to be in. We just won "Best New Band" in Lawrence.
Dream job: If I could be unrealistic and in a fantasy world, I would be a cloud designer. I like art! But in real life, I would like to write grants for educational purposes. I really want to be involved in education.
What were you doing when scouted? At work at the Cider Gallery.
Describe your style: It's a mix and match of current and vintage styles. I draw a lot of inspiration from Japanese styles, but I don't go that crazy.
Fashion trends you love: I like seeing people that wear "out there" stuff and that take risks. It's not a trend, but I like outfits that you immediately notice and that are different.
Fashion trends you hate: I don't hate anything because people are allowed to wear anything they want.
Fashion influences: I see a lot of fashion on Tumblr and also through my mom. I would just come home and she would just hand me a dress that's really cool. When she was a teenager, her style was a lot like mine so she has some vintage stuff she has given to me.
Whom do people say you look like? I never had anyone tell me that I look like anybody.

What type of music do you unwind to? I know everyone says this, but I really do listen to every genre. Lately, I've been listening a lot to Pizzicato Five. They're kinda like Cibo Matto. But the weirder the music, the better!
Tell us a secret: I don't style my hair!
Copyright 2018 The Lawrence Journal-World. All rights reserved. This material may not be published, broadcast, rewritten or redistributed. We strive to uphold our values for every story published.