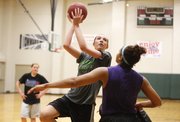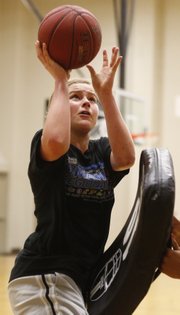 Each of the past four days at Free State High girls basketball camp, a small group of post players left the main gymnasium and headed down the hallway. They joked with Firebirds alum Chantay Caron as they followed her to an adjacent gym, but once they made it inside, it was time to work.
Caron, who graduated from FSHS in 2010, now plays at Kansas State University, where the 5-foot-11 guard/forward averaged 6.7 points and 4.1 rebounds in her junior season.
For these 30-minute camp breakout sessions, Caron became a coach. She schooled junior forwards Hannah Shoemaker and Jillian Schuler and incoming freshmen Naomi Hickman and Madison Piper on what it takes to score in the post.
By playing the defender in a revolving door of one-on-one post drills, Caron got a feel for the young Firebirds the first day and told them things needed to change.
"A lot of them were not aggressive at all," Caron said.
So the former FSHS standout began by introducing them to simple footwork and post moves. The next day, it was on to sealing and posting up. She just kept feeding them the knowledge they needed to get comfortable before she demanded they get more physical.
By the time camp ended Thursday, the 5-11 Piper and her counterparts began playing strong inside while maintaining their form and touch.
"We learned from her," Piper said of Caron, "and she knows everything about it. She has experience (playing against) Britney Griner (a three-time All-American at Baylor). We actually listen to (Caron) because she actually played against her. We know what to do now."
It didn't take the young Firebirds long to figure out it would be much more difficult to put a move on Caron than a high school opponent. Hickman said Caron's ability to push them around inside made the players adjust and improve.
"Probably the only times I scored, she wasn't really trying," the 6-3 freshman said with a laugh.
Free State coach Bryan Duncan couldn't have been happier with how his players responded.
"When you bring in a Big 12 post player, it's very easy to simulate," Duncan said. "This is what happens when you're not aggressive. The ball's gonna get slapped out of your hands, it's gonna get blocked, you're gonna get knocked on your butt … that sort of thing."
The Firebirds look different now than they did last season, but they hope to continue to be the aggressors on the court. Millie Shade, Scout Wiebe and Maren Kahler will be seniors, but they are the only players who spent considerable time with the varsity this past winter. Among the many others vying for playing time are junior Lily Ross, Schuler, Shoemaker, Hickman and Piper.
On the last day of camp, Shade said this summer's weekly league games and practices should help the Firebirds.
"I think we did really good playing as a team for the first time, playing together," Shade said. "It's just a lot different without knowing what everybody can do yet."
Copyright 2018 The Lawrence Journal-World. All rights reserved. This material may not be published, broadcast, rewritten or redistributed. We strive to uphold our values for every story published.