As another crop of KU students throw their caps in their air and move on into a new chapter of life, the influx of family members and other visitors has created a boom for local businesses. Before Lawrence grows a little quieter for the summer, without the college student population, local merchants are enjoying another graduation weekend in Lawrence.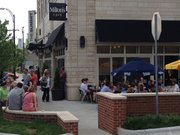 "It's awesome," said David Lewis, owner of Lawrence breakfast spot Milton's, in the ground floor of the 901 Building at Ninth and New Hampshire streets. Graduation weekend is a huge time for him, Lewis said, and his restaurant, like many other downtown businesses, was packed and noisy Saturday morning with dozens of locals and visitors crowding his outdoor seating area on a warm, sunny day. "We're really excited about the weekend, and the weather."
The flip side of that equation is that, in addition to the many high school and college students graduating, about 27,000 Kansas University students are likely to leave town for at least part of the summer.
That they'll take millions of dollars in disposable income with them is an economic reality that, local businesses say, affects some more than others. Some small businesses owners spend the spring months preparing for the long summer without those customers.
"The students are extremely important to us," said Ed Foreman, owner of the sweets shop TCBY & Mrs. Fields, at 845 Massachusetts St. "Massachusetts Street is what it is. But, as neighbors, we're more interested in the local community." Foreman said he has been preparing for the summer for months, getting his business involved in community events to make sure families in Lawrence know him and his store.
Meanwhile, other local businesses enjoyed graduation weekend while it was here.
Hungry customers lined up waiting Saturday morning for employees to open Burger Stand at Casbah, 803 Massachusetts St., while at other restaurants, patrons spilled out through the doors and into the street at lunch time. At Amyx Barber Shop, 842 Massachusetts St., owner Mike Amyx, who is also the vice mayor of Lawrence, answered questions while cutting a young man's hair.
"I came in about 5:30 a.m. this morning," Amyx said. His shop saw an early-bird rush of high school and college students getting ready for graduation photos, plus younger students celebrating other events. "It's an extremely busy time," he said.
At the Eldridge Hotel, 701 Massachusetts St., staff laughed when asked if they were busy. The hotel has been booked solid for this weekend, they said, since reservations were opened immediately after last year's graduation — and filled within an hour.
In the, summer, the hotel counts on a certain amount of tourist trade, so its fortunes will depend partly on weddings and the weather. Other local businesses said they, too, find ways to keep busy until the students return.
The economic cycle begins anew in 99 days, with the university's first day of classes Aug. 26.
Copyright 2018 The Lawrence Journal-World. All rights reserved. This material may not be published, broadcast, rewritten or redistributed. We strive to uphold our values for every story published.