The way Lawrence High coach Jack Hood sees it, the first and last track events at a meet can really change a team's perspective on things.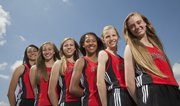 Start off with a fast, highly competitive performance in the 4x800 relay, and the rest of the team watching can be inspired by the effort given. Finish off by zipping around the track for a top-three finish in the 4x400 relay, and Hood leaves feeling like the "king of the world," even if the rest of the night was awful.
It's a good thing the coach has Leah Gabler, Riley Shook, Kyleigh Severa and Grace Morgan running in the 4x800, and Gabler, Marissa Pope, Jensen Edwards and Severa sprinting in the 4x400.
"It's a lot of pressure that I put on 'em," Hood said, "but they're tough kids."
The Lions' 4x800 team finished third in the Sunflower League with a time of 9:51.29, a season best. If they finish in the top four today at a Class 6A regional at LHS (3:30 p.m. start), they'll qualify for state, where they're hoping for a top-five finish.
The 4x400 team took second at the league meet, finishing in 4:02.53 — 1.45 seconds behind Shawnee Mission East. That group also aims to move on to state and contend for a medal.
Gabler, a sophomore who starts off both relay races for LHS, loves the drive she feels during relays, which can be tougher to achieve in individual races.
"You know when you're running that you can't give up," Gabler said, "because you have three other people who are expecting you to do good. You always have to keep that in mind."
Shook, who runs the second leg of the 4x800, agreed and said there is also friendly competition among the relay teammates to see who can run the best split. That's what it takes to keep up with the top relay teams in the state.
"You see these older girls who have been running it more than you, and we're not very big, either," Shook said. "They can be intimidating, but once we get out there we just show them what we can do."
There is a real sense of newness to the group and its success. Morgan is the only senior on either relay, but this is her first year running in the 4x800. Severa is a freshman, and the other four runners are sophomores.
"I like the fact that we're looked at as the underdogs because we are all so young," Severa said. "It just makes us leave them surprised."
Morgan, known for consistently finishing at or near the top in the 3,200 and 1,600, is glad she joined her younger teammates in the 4x800, because they're exciting to watch.
"They're already so good," Morgan said, "and they have so many more years left."
The same goes for the 4x400 foursome. Pope said the Lions enter their regional thrilled with their performance at league, when they shaved nearly five seconds off their previous best time.
"That one was just insane," Pope said. "I think realizing how far into the season we actually are, we knew it was time to peak and we finally stepped up."
Edwards said she, Pope, Gabler and Severa all pushed each other to drastically improve and get down to 4:02.53.
"Some of us had been working for two years to get that time," Edwards said. "We finally just came together at that (league) meet."
Given the character and agenda of the runners, Hood hasn't been surprised to see both relay teams emerge this season.
"They're so competitive, and they've really bought in to running for each other," the coach said. "They refuse to give up a foot. They're striving, and it's not for coach Hood, it's not for Lawrence High, it's for each one of them. They're running for their teammates."
Copyright 2018 The Lawrence Journal-World. All rights reserved. This material may not be published, broadcast, rewritten or redistributed. We strive to uphold our values for every story published.