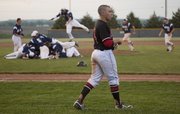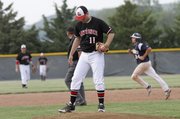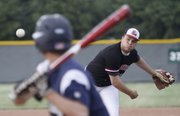 Manhattan — Less than five hours after pounding out 12 runs on 13 hits to advance to the regional title game at Eisenhower Baseball Complex, Lawrence High's baseball team mustered just two hits in a 2-0 loss to second-seeded Manhattan.
There was nothing about the way the regional semifinal — or, really, the week of practice that led up to it — unfolded that made the Lions (14-8) think their season would come to an end Wednesday night.
In the 12-2, five-inning victory over Junction City earlier Wednesday, the Lions benefitted from stellar pitching from C.J. Stuever (five hits, two runs and two strikeouts in five innings), had all nine batters in the lineup reach base at least once and picked up RBIs from five hitters. What's more, LHS advanced to the title game without having to use ace pitcher Brandon Bell or stud closer Shane Willoughby.
Everything was set up perfectly for LHS to storm into next week's state tournament. But then Manhattan pitcher Henry De Noble started throwing, and the Lions' bats went silent.
"I'm floored," LHS coach Brad Stoll said. "After just pounding the ball in the first game and with what we did offensively in practice this week, I don't think anybody saw this coming."
De Noble used a sharp fastball to get ahead of most LHS hitters and often followed it up with off-speed wizardry that kept the Lions off balance and off the bases.
"He came right at us, and he commanded his breaking ball very well," Stoll said. "You can't say a bad thing about the job that kid did."
Added Willoughby: "He was mixing it up pretty well, and we were chasing. We probably would've had four or five walks if we didn't chase."
LHS did not register a hit until sophomore third baseman Michael Sinks smashed a single to center field in the fifth. But even that proved irrelevant, as junior first baseman Jacob Seratte grounded into a double play to end the potential threat. The only other LHS batter to reach base was junior pinch-hitter Ryan Walter, who legged out an infield single in the sixth. He, too, never got beyond first base.
Given the way Bell was pitching, the Lions' offensive struggles might not have been that crippling had it not been for two Manhattan at-bats in the bottom of the first inning.
After Bell retired the first two batters of the game with a strikeout and an easy toss to first base, Manhattan second baseman Jacob Biller ripped a single to left field. Two pitches later, MHS center fielder Jacob Priddle parked a fastball over the left-field fence to give the Indians a 2-0 lead.
"One pitch too many that I left up," said Bell, fighting back tears.
At the time, the Lions seemed unaffected.
"No big deal, we've still got six innings left," Willoughby recalled thinking. "And the next thing I know I look up and it's the bottom of the sixth. That's one of the fastest games I've ever been a part of. It just flew by."
The loss, which wrapped in just over an hour, ended the prep careers of Willoughby, Stuever and Adam Rea. That, more than the individual loss, seemed to be what hurt the most.
"The worst part is seeing my seniors disappointed," Bell said. "It just sucks to lose."
Added Stoll: "I'm just heartbroken that I won't get to coach those three guys any more. That's three tremendous leaders, three character kids. Two pretty good swings in succession early was the difference. We just couldn't get anything going."
Lawrence 12, Junction City 2, 5 innings
Junction City 100 01 — 2 5 2
Lawrence 203 43 — 12 13 0
W — CJ Steuver. L — Nick Zimmermann
2B: LHS — Stuever, Shane Willoughby, Michael Sinks (2), Adam Rea, Easton Barnes.
LHS highlights: Stuever 5 IP 5 H 2 ER 2 K, 1-for-1, 2B, 3 R; Kieran Severa 2-for-3, RBI, SB, 3 R; Shane Willoughby 2-for-4, 2B, 4 RBI, R; Michael Sinks 2-for-2, 2 2B, RBI, SB, R; Jacob Seratte 1-for-3, RBI, R; Adam Rea 1-for-3, 2B, RBI, R; Parker Kirkpatrick 1-for-3, 2 RBI; Easton Barnes 2-for-2, SB, 2 R.
Manhattan 2, Lawrence 0
Lawrence 000 000 0 — 0 2 1
Manhattan 200 000 x — 2 4 0
W — Henry De Noble L — Brandon Bell
HR: MHS — Jacob Priddle.
LHS highlights: Brandon Bell 5.2 IP 4 H 2 ER 5 K; Shane Willoughby 0.1 IP 0 H 0 ER 0 K; Michael Sinks 1-for-2; Ryan Walter 1-for-1.
Copyright 2018 The Lawrence Journal-World. All rights reserved. This material may not be published, broadcast, rewritten or redistributed. We strive to uphold our values for every story published.