Felicia Shockey isn't your average social worker.
She has arranged for a patient to ride on a Harley Davidson alongside the Patriot Guard. She helped another fly in a hot-air balloon, checking an item off the top of his bucket list. She lets patients drink alcohol or eat steak — if that's what they want.
It's all part of her mission to assist local people direct their own care. She says it's the best way to keep them happy, healthy and stress-free.
Shockey, the director of social services at Brandon Woods at Alvamar in Lawrence, is the inaugural winner of the Crossroads Hospice Caring More Award, which will be presented at The Oread, 1200 Oread Ave., at 9 a.m. Wednesday. The recognition honors social workers who go above and beyond the call of duty. A $500 prize will be given to her chosen charity, the Lawrence-Douglas County Health Department's Project Lively, which promotes senior independence.
That's a major goal of Shockey's, in fact: to help as many elderly people as possible remain vibrant, in charge of their own decisions, and, above all, living the lives of their choice, no matter their physical or mental limitations.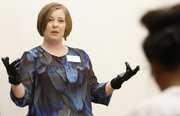 "A large part of my job is advocating for residents," she said. "Moving from the medical model of health care, which is very stale and static, to resident-directed care, and letting people know they don't have to take their medications, is very different."
Shockey isn't one to tell patients what to do, or to schedule their meals, activities and sleeping patterns. No one wants to live like that in youth and middle age, so why would they as seniors? Plus, the people she treats are especially vulnerable, as they're undergoing the difficult transition from living in a house with family members and belongings to a retirement community with a bunch of strangers.
"I think a huge thing in working with the elderly community is getting to know them as people," said Jeannie Thomas, executive director of Lenexa-based Crossroads Hospice, which gives out the Caring More Award. "A good social worker finds out who each person is and what's important to them, and knows that they're a person, not just a number or someone who fills a bed."
Shockey said she knew she wanted to go into social work after living in Germany, where her husband was serving in the military, and seeing the joy Afghan refugees had even in the most difficult of circumstances. She also discovered that she was able to communicate with people of different cultures and tongues simply by showing them she was there to help.
And she isn't just giving at work: The 32-year-old mother of two is a foster parent for homeless animals from the Lawrence Humane Society, and acts as a guardian for local elderly and disabled residents with no one left to speak for them.
Copyright 2018 The Lawrence Journal-World. All rights reserved. This material may not be published, broadcast, rewritten or redistributed. We strive to uphold our values for every story published.