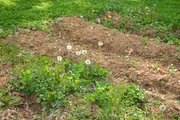 Though it can be argued that weeds are not our enemy, uncontrolled fields of dandelion, chickweed, ground ivy or wild onions can unnerve even the most passive groundskeeper. Fortunately, following a few time-proven lawn care practices can eliminate the need for chemical warfare against weeds.
Step 1: "Don't Water Your Weeds." Though intentionally metaphoric, this proverb is also literal. Frequent watering of lawns encourages weed growth.
Water for longer periods of time, less frequently. Each watering should soak the top 6 to 8 inches of soil.
Wait until the soil is dry and the grass begins to look grayish and wilted before watering again.
Step 2: Keep fescues and other turf-type grasses at least 2 inches tall. Use the rule of thirds when mowing: mow the top third off and leave the bottom two-thirds intact.
Step 3: Hand pull as many weeds as possible. Weed when the ground is moist to ensure both the weed and the root are removed. Use a forked weed puller to remove deep-seated weeds such as dandelions and wild onions.
Step 4: Eliminate weeds and unwanted pathogens through the process of soil solarization.
Water the yard and then cover heavily weeded areas with clear, plastic sheeting.
Weight the edges of the sheeting down with bricks or lumber and leave it in place for 4-6 weeks.
The heat generated beneath the plastic will eliminate viable seeds as well as many unwanted lawn pests and fungi, leaving a clean slate to start a fresh batch of coveted grass or other selected vegetation.
Step 5: Use corn gluten to fertilize existing grasses.
Corn gluten, a natural by-product of corn processing, prevents the germination of all types of seeds while simultaneously supplying a powerful dose of nitrogen to existing vegetation.
Do not apply corn gluten in conjunction with new seed.
Step 6: Heed the wisdom of the weeds. Dandelions thrive in soils with a pH of 7.5, while grasses prefer pH levels between 6 and 6.5.
Adding sulfur to dandelion-dotted yards will lower the pH and allow grass to flourish.
A lack of nitrogen in the soil produces a healthy crop of clover, while poor drainage and compacted soil result in the proliferation of ground ivy, knot grass and plantains.
Proper fertilization and effective aeration will result in a crop of healthy grass, rather than a blotchy mass of volunteer vegetation.
Copyright 2018 The Lawrence Journal-World. All rights reserved. This material may not be published, broadcast, rewritten or redistributed. We strive to uphold our values for every story published.