As combative as the previous couple of hours of City Showdown baseball had been, Free State High coach Mike Hill and his Lawrence High counterpart Brad Stoll proudly shook hands Thursday night at Hoglund Ballpark.
Photo Gallery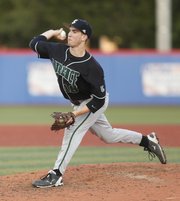 Lawrence High v. Free State baseball
Images from Thursday's game between Lawrence High and Free State at Hoglund Ballpark.
"That was fun," Hill said.
"You bet," Stoll replied.
Neither side of the rivalry could feel too bad following a 10-inning battle that Lawrence won, 2-1, on a bases-loaded, full-count, two-out, walk-off walk by Lions junior Jacob Seratte.
Lawrence's Kieran Severa, Shane Willoughby and Drew Green set up the game-winning scenario with three straight one-out singles in the bottom of the 10th. Green's base hit could have been the winner, but Free State junior right fielder Zach Bickling gunned down Severa at the plate for the second out.
Joked Willoughby: "Drew hit it too hard. I mean, Kieran's safe if he doesn't hit it so hard."
With Lions on second and third, FSHS coach Mike Hill elected to walk Michael Sinks intentionally and have reliever Sam Hearnen throw to Seratte with the bases loaded and potential force outs at every bag.
Seratte had struck out in his previous three at-bats after drawing a walk in the second inning, which seemed like days ago by the 10th.
"That was crazy," Seratte said after his RBI walk won the game. "I hadn't been having a good day at the plate, so I was looking to make contact. But he walked me, and everything worked out."
The 6-foot-4 junior took a joyous, short jog toward first base as Willoughby trotted home for the Lions (13-7).
"It was unconventional, but it was awesome," Seratte said. "We beat our rivals in extra innings. That was perfect. I'm glad we got the win for the seniors."
FSHS shortstop Anthony Miele, whose RBI single in the bottom of the second gave Free State (17-3) its sole run, said the Firebirds thought they would force an 11th inning when catcher Lee McMahon took Bickling's throw and tagged Severa at home for the second out.
"It got us pumped out there," Miele said, "and we thought we had a chance."
But as Hill pointed out, Free State wouldn't have been in such a position if it had come up with more than six hits against Lawrence starter Brandon Bell (seven innings) and reliever Willoughby.
"The timely hitting wasn't there," the FSHS coach said. "That's what it's all about when you're in a tight ballgame like this."
Bickling singled and reached third on a two-out Joel Spain single in the eighth, but both runners were stranded when Willoughby struck out Cooper Karlin to end the inning.
In the ninth, McMahon reached on an error, and courtesy runner John Fellers moved up to second on a botched pickoff attempt, but Willoughby fanned the next two FSHS hitters to eliminate any threat.
Though Firebirds starting pitcher Jacob Caldwell held LHS to two hits and no runs in four innings, Lawrence finally crossed home plate in the sixth against Hearnen. CJ Stuever led off with a single and, following a two-out walk by Green, Sinks made it 1-1 with a base hit to right.
It seemed like the regular-season finale might never end, but Stoll liked seeing the rivals play at such a high level before regionals begin next week.
"Hopefully," Stoll added, "we run into each other in the state tournament down the road."
Free State 010 000 000 0 — 1 6 0
Lawrence 000 001 000 1 — 2 10 3
W — Shane Willoughby (2-0). L — Sam Hearnen (6-1).
Free State highlights — Jacob Caldwell, 4 IP, 2 H, 2 K, 3 BB; Hearnen, 2-for-4, R; Anthony Miele, 1-for-4, RBI; Joel Spain, 1-for-4; Cooper Karlin, 1-for- 4; Zach Bickling, 1-for-4.
Lawrence highlights — Brandon Bell, 7 IP, 4 H, 0 BB, 5 K; Willoughby, 3 IP, 2 H, 4 K, 0 BB; CJ Stuever, 2-for-4, R, SB; Adam Rea, 3-for-4; Kieran Severa, 1-for-4; Drew Green, 1-for-5; Michael Sinks, 1-for-3; Ryan Walter, 1-for-1.
Copyright 2018 The Lawrence Journal-World. All rights reserved. This material may not be published, broadcast, rewritten or redistributed. We strive to uphold our values for every story published.