Photo Gallery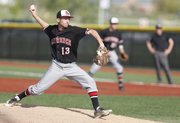 Free State baseball v. Lawrence High
Images from Monday's game between Free State and Lawrence High at Free State High School.
World Company Cup Standings
FSHS LHS
Football 1 0
Volleyball 0 1
Boys soccer 0 1
Girls tennis 1 0
Girls golf 0 1
Boys cross country 1 0
Girls cross country 0 1
Gymnastics 1 0
Boys swimming 1 0
Boys basketball 1 1
Girls basketball 2 0
Wrestling 0 1
Boys bowling 0 1
Girls bowling 0 1
Boys tennis 1 0
Girls swimming 1 0
Boys track 1 0
Girls track 1 0
Girls soccer 1 0
Baseball 1 0
Softball 1 0
Boys golf 0 0
Totals 15 8
On the rare occasions Lawrence High baseball batters found their way on base Monday at Free State High, Firebirds senior pitcher Dane McCullough made sure the Lions didn't advance.
McCullough threw all seven innings in the City Showdown, limited LHS to five hits and only allowed three Lions to reach scoring position in a 5-0 Free State victory that capped an undefeated run through the Sunflower League by the Firebirds.
Lawrence (12-7 overall, 8-3 Sunflower League) gave McCullough (7-0) its best shots in the fifth and sixth innings — the only occasions when the Lions had two runners on base at once — but the FSHS ace denied them the satisfaction of reaching home.
With two outs and LHS trailing, 4-0, in the fifth, Jacob Seratte doubled down the right-field line for the Lions' second hit of the game. But after Easton Barnes drew Lawrence's only walk, McCullough struck out CJ Stuever to end the threat.
The Lions got creative in the top of the sixth, when Kieran Severa led off with a bunt single. Drew Green later knocked a one-out base hit, and eventually both Severa and Green moved into scoring position on a double steal with two outs. But McCullough got Adam Rea to ground out to FSHS shortstop Anthony Miele to end the inning.
No out in that stretch proved tougher than Shane Willoughby, who fouled off pitch after pitch in a lengthy sixth-inning at bat before McCullough struck him out.
"It's fun because me and him used to be really good friends when we were younger. I just enjoyed battling him," McCullough said after a six-strikeout performance. "I'm glad I had his number today, because I'm pretty sure any other day he'd have mine."
As effectively as McCullough threw, he gave props to his defense for making a shutout possible. Second baseman Cooper Karlin and Miele turned a double play to end the third. The next inning, center fielder Joel Spain weaved and tracked a deep fly out off Green's bat at the warning track.
Green identified McCullough's ability to change speeds and throw his breaking ball in any count as a factor in the LHS struggles: "You're always on your toes. You never know what's gonna come."
After getting shut out for the second time this season, the overwhelming feeling in Lawrence's dugout was one of disappointment. As LHS coach Brad Stoll pointed out, the Lions have averaged five runs a game this year.
"You think you can get out and scratch some runs somehow, some way," Stoll said. "But we just, bottom line, didn't have many quality at-bats back to back."
Unlike his counterpart, FSHS coach Mike Hill left pleased with his lineup, which produced nine hits off Stuever (2-1) in six innings.
Junior Zach Bickling gave FSHS (17-2, 11-0) the lead for good on a two-run double over LHS center fielder Severa's head in the second inning. Sam Hearnen and Cameron Pope scored on the hit before Bickling was thrown out at third — a play he wasn't too happy about at the time.
"I'd have rather not been thrown out, but it was worth it, I guess," Bickling said.
The Firebirds, who have sealed a No. 1 seed and hosting duties for regionals, plated two more runs in the third. LHS left fielder Easton Barnes misplayed a two-out single by Hearnen, allowing Karlin to score. Jacob Caldwell then scored on a passed ball.
An RBI single by Miele in the sixth scored Tristan Garber to make it 5-0 and all but sealed Lawrence's fate.
Said Hill: "So many kids did so many good things for us today, and they have to for us to be able to get that kind of victory."
Lawrence and Free State play again at 7 p.m. Thursday at Hoglund Ballpark in the regular-season finale for both teams.
Field vandalized: Hill confirmed that some vandalism was discovered on the Firebirds' baseball field Monday morning, but declined to comment.
Lawrence 000 000 0 — 0 5 1
Free State 022 001 X — 5 9 0
W — Dane McCullough (7-0). L — CJ Stuever (2-1).
2B — Jacob Seratte, Lawrence; Zach Bickling, Free State.
Lawrence highlights — Seratte 2-for-3; Kieran Severa 1-for-2; Drew Green 1-for-3; Michael Sinks 1-for-3.
Free State highlights — McCullough 7 IP, 5 H, 6 K, BB; Cooper Karlin 2-for-2, R; Cameron Pope 2-for-3, R; Bickling 1-for-3, 2 RBI; Sam Hearnen 1-for-2, R; Anthony Miele 1-for-2, RBI; Jacob Caldwell 1-for-3, R; Joel Spain 1-for-3.
Copyright 2018 The Lawrence Journal-World. All rights reserved. This material may not be published, broadcast, rewritten or redistributed. We strive to uphold our values for every story published.