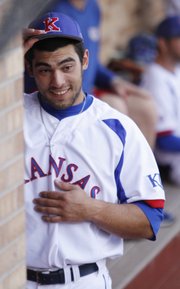 Alex DeLeon went 3-for-5 with a double, home run and three RBIs, and Tanner Poppe allowed just one hit in seven scoreless innings as Kansas University cruised to an 8-0 baseball victory over Baker on Wednesday at Hoglund Ballpark.
Held scoreless through five, Kansas (27-18) scored all eight runs in the final three innings against Baker (6-39).
Poppe (3-3) retired the Wildcats in order in five of seven innings, walked none and struck out seven. He threw just 70 pitches.
Baker 000 000 000 — 0 1 2
Kansas 000 002 33x — 8 14 1
W — Tanner Poppe, 3-3. L — Caleb Lee, 1-7.
2B — Michael Suiter, Alex DeLeon, Connor McKay, Marcus Wheeler, Kansas. HR — DeLeon, Kansas.
Kansas highlights —Poppe 7 IP, 1 H, 0 R, 0 BB, 7 Ks; DeLeon 3-for-5, 2 R, 3 RBIs; McKay 3-for-5, 2 R, RBI; Suiter 2-for-5, 2 R, RBI; Wheeler 2-for-3, 2 RBIs; Kevin Kuntz 2-for-4, R.
Copyright 2018 The Lawrence Journal-World. All rights reserved. This material may not be published, broadcast, rewritten or redistributed. We strive to uphold our values for every story published.