Fire crews and police responded to a fire about 10:30 a.m. Friday at a house in the 500 block of Park Hill Terrace, just north of Broken Arrow School.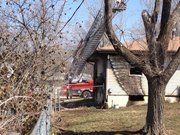 At noon, traffic remained blocked on nearby Louisiana Street from 27th Terrace to 25th Street.

Lawrence police officers first responded to the scene and found heavy smoke and fire pouring from a basement window of the one-story house.
Lawrence-Douglas County Fire Medical crews had the fire under control by 11:10 a.m., and no injuries were reported. The Douglas County chapter of the American Red Cross were assisting the occupants of the house, who evacuated and were displaced, according to a statement from Lawrence-Douglas County Fire Medical.
On Monday, investigators determined the fire was caused by the accidental misuse of a space heater. Damage was estimated at $126,000, according to a statement from Fire Medical Division Chief Eve Tolefree.

Copyright 2018 The Lawrence Journal-World. All rights reserved. This material may not be published, broadcast, rewritten or redistributed. We strive to uphold our values for every story published.