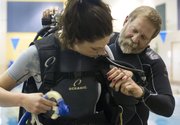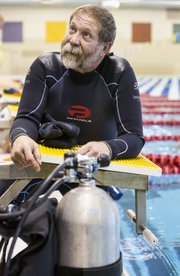 Photo Gallery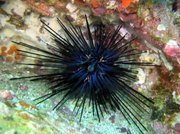 Ocean Wildlife
On a Wednesday afternoon, Dave Bach attempts to carry on a conversation, maneuvering past the toolboxes and acetylene tanks as he inspects vehicles in his auto shop.
The desk phone interrupts him again, and soon he's holding the receiver and a cellphone to different ears, apparently conversing with both. The yellowed sign above him proclaims "Registered Volkswagen Technician" to the room smelling of gasoline.
The calls end, he gets a minute to breathe and picks up where he left off.
"It's a shame what Asian nations are doing with shark fining," he says, shaking his head. "It's just a travesty."
Bach cares deeply about ocean wildlife. He goes to his computer and starts to click through undersea pictures that look ripped from a National Geographic. He points out whale sharks, electric clams, lion fish and sea turtles.
"This one was taken two weeks ago in Cozumel," he says smiling. "That 5-foot eel swam right underneath me as I was diving along."
Oil and water have managed to mix in Bach, a world-traveling diver/mechanic living 750 miles from the nearest ocean. His landlocked position hasn't prevented him from diving the Galapagos, Cambodia, Indonesia and Mexico, or stopped him from opening up The Scuba Shack six years ago, out of the back of his auto repair business, Das Autohaus, 1045 New Jersey St.
He sells dive equipment, organizes dive trips to Mexico and the Caribbean, and continues to work as an instructor. His customer base varies from 60-year-old women hoping to fulfill a life goal to spring-break love birds wanting to get their diving accreditation out of the way before a vacation. He sees one or two people a day, and the business is growing, he says.
It's still a side project compared with his busier auto shop, a sort of diving mission in middle-of-the-map Lawrence with Bach serving as an underwater evangelist.
"I don't think of it as teaching someone," he says of his job. "I want to train divers. I want to train someone with a passion. I don't want to train someone that goes one time and never goes again."
He wants to spread the same passion that blossomed in him as a child watching "Sea Hunt," an adventure television show that aired in the late '50s.
"It always had something to do with the ocean, chasing people with spear guns and knives," he said.
He didn't actually make his first dive until his late 20s in 1976 and took to it like a fish to — well, you get the picture.
He spent the next three decades diving with every sort of ocean specimen of ocean life imaginable: North Pacific octopus, stonefish, bull sharks, nurse sharks, tiger sharks.
"It's like skiing, it's like skydiving, it's like flying. If you are an adrenaline junky or someone who enjoys the outdoors, it's the perfect sport. You are always going to some warm water tropical place and, I mean, what's wrong with that?"
Time passed, and Bach eventually settled down in Lawrence opening his auto shop in 1999. Since then, he has amassed a pretty impressive collection of retro Volkswagen buses, which he restores and sells. But he hasn't slowed down as a diver and still makes an estimated 300 dives a year, both training students and traveling abroad.
"I'm a platinum pro diver," he said explaining that the distinction recognizes the top percentile of divers, those who have made more than 5,000 dives in their lifetime and contribute in some way to the sport of diving.
As the afternoon passes, he sits by his computer describing faraway lands, open seas and the beauty of the wildlife that inhabits them.
"A shark is just a big fish," he says with a sort of disdain for all those propagating the fearful image that often accompanies the animal.
A man pops in wanting to buy a camper. The two talk for a while and Bach goes back to narrating his pictures.
He explains that if he can just get someone in a diving suit and experience what's under the surface, they will likely fall in love with the sport.
He then gets up and goes back to working on his cars.
Copyright 2018 The Lawrence Journal-World. All rights reserved. This material may not be published, broadcast, rewritten or redistributed. We strive to uphold our values for every story published.