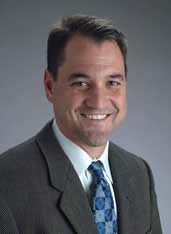 Contact KU and higher ed reporter Sara Shepherd
Have a tip or story idea?
---
More stories
Kansas University has a new leader for its Edwards Campus in Overland Park: David Cook, a faculty member and administrator at the KU Medical Center.
KU announced Monday that Cook will become the new vice chancellor for the Edwards Campus on April 15.
Cook, 43, has worked at the Medical Center for 14 years. He is an associate professor in the School of Medicine, and since 2008 he has also been associate vice chancellor for community engagement for the Medical Center.
In that position, he works with businesses to create partnerships and with communities throughout the state to help bring health care to underserved areas. From 2008 to 2011, he was also the executive director of the Midwest Cancer Alliance, a network of hospitals and research institutions in Kansas and the Kansas City area centered around the KU Cancer Center.
That kind of experience, he said, should serve him well as the leader of the Edwards Campus, which serves as KU's center for adult education in the Kansas City area.
"I think it's a lot about helping address the workforce needs of the community," Cook said.
He said he'd like to help KU be a leader in higher education around Kansas City, while also serving as a partner to other institutions.
This, he said, is exemplified by the new Business, Engineering, Science and Technology building on the campus. The $23 million BEST building opened in 2012 and was built with the help of the Johnson County Education and Research Triangle sales tax.
Cook said that further strengthening of that triangle, which also includes the Kansas State University campus in Olathe and the KU Cancer Center, would serve the KC area and KU well.
Cook has a master's degree and a doctorate from KU and a bachelor's degree from Iowa State University. He will earn $220,000 per year as the leader of the Edwards Campus.
He'll replace Bob Clark, who oversaw the campus for 15 years before stepping down Jan. 1. Mary Ryan has served as interim vice chancellor since then.
Cook was one of three public finalists announced for the job, along with administrators from Wichita State and Indiana universities.
Copyright 2018 The Lawrence Journal-World. All rights reserved. This material may not be published, broadcast, rewritten or redistributed. We strive to uphold our values for every story published.