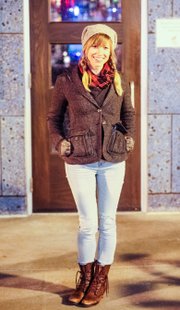 Age: 35
Relationship status: Taken
Hometown: Lawrence
Time in Lawrence: Since '99
Occupation: Pachamama's bartender and law clerk
Dream job: Lawyer
What were you doing when scouted: Drinking wine with my friend.
Describe your style: Whatever is clean and works!
Fashion trends you love: I'm excited about spring clothes, and I always love all types of shoes.
Fashion influences: My mother and grandmother as well as my beautiful group of friends.
What would you like to see more of in Lawrence: Roller skating rink
Less of? Johnson County
Tattoos or piercings: Yes
Whom do people say you look like? Sweet Dee, the waitress from the show "It's always Sunny in Philadelphia"
What type of music do you unwind to? It depends on my mood. It so varies!
Tell us a secret … Can it be about someone else? Ha!
Copyright 2018 The Lawrence Journal-World. All rights reserved. This material may not be published, broadcast, rewritten or redistributed. We strive to uphold our values for every story published.