Few baseball players in the Big 12 know as much about getting hot at the plate as Kansas University sophomore outfielder Michael Suiter.
Photo Gallery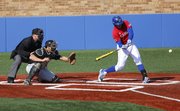 Kansas baseball vs. Jackson State
After his two-run single capped an eight-run fifth inning for the Jayhawks in an 11-0 victory over Jackson State Wednesday afternoon at Hoglund Ballpark, the reigning Big 12 player of the week, who raised his batting average to .462 with a 3-for-4 outing, said KU's monster inning showed how quickly momentum can take over in the batter's box.
"Once you get rolling, you watch all of your teammates doing well, it really helps to build off each other," the outfielder from Kailua, Hawaii said. "That's proof right there."
The Jayhawks' wave of runs in the fifth, when they sent 13 batters to the plate, began when Ka'iana Eldredge drew a bases loaded walk with one out. Tommy Mirabelli and Justin Protacio also produced RBI walks and Dakota Smith slapped an opposite-field single to right field.
KU (11-5) had already extended a three-run lead to 7-0 when Jordan Dreiling plated another run on a fielder's choice to shortstop. With runners on the corners and two outs, Alex DeLeon made it 9-0 on an RBI double to left field.
"They set the table for us," DeLeon said after going 3-for-4 with a double, home run and four RBIs against Jackson State (9-8). "They walked a lot of people and then we got a couple of nice hits. We got the job done."
Tucker Tharp also went 3-for-4 and scored a run in the final game of the Jayhawks' five-game, unbeaten homestand.
Kansas coach Ritch Price said his team has found success this year by working counts, getting on base and capitalizing.
"We had some good at-bats after the table got set," Price said of the eight-run fifth, which helped KU beat Jackson State for the second time this season.
Still, the coach found even more enjoyment in the mere presence of senior right-handed pitcher Tanner Poppe on the mound. After missing two starts with an injured throwing shoulder, the 6-foot-6 hurler from Girard allowed three hits and one walk while striking out two in four innings for his first win of the season.
"Obviously it showed he's completely healthy and over the inflammation he had," Price said.
Relievers Drew Morovick, Jordan Luvisi, Conner Murray and Hayden Edwards helped Kansas complete the shutout, its fourth of the season, matching the KU total from 2012.
Kansas begins a three-game series at TCU on Friday, which marks the opening of an 11-game road stretch that includes trips to BYU, Missouri State and Oklahoma.
Copyright 2018 The Lawrence Journal-World. All rights reserved. This material may not be published, broadcast, rewritten or redistributed. We strive to uphold our values for every story published.