A Lawrence police captain has been appointed as an undersheriff in the Douglas County Sheriff's Office.
Sheriff Ken McGovern announced the appointment Monday of James Martin Jr. as the undersheriff in charge of the office's operations division. The position was opened in September with the retirement of Kenny Massey, who now works with the Kansas Juvenile Justice Authority.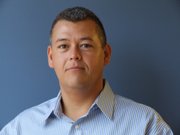 The sheriff's office employs two undersheriffs. Undersheriff Steve Hornberger will oversee the office's corrections division, including the Douglas County Jail.
Martin, a patrol shift commander for the Lawrence Police Department, has been a military police officer, a corrections officer, a patrol deputy, a juvenile crimes investigator, a crime scene investigator and a patrol supervisor over the past 28 years. He is also a former member of the Eudora School Board.
As undersheriff of the operations division, Martin will supervise the office's patrol, civil process and warrants, investigations, courtroom and building security, community relations and administration functions.
Copyright 2018 The Lawrence Journal-World. All rights reserved. This material may not be published, broadcast, rewritten or redistributed. We strive to uphold our values for every story published.