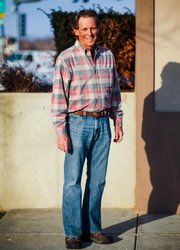 Age: 66
Relationship status: Married
Hometown: Fort Scott
Time in Lawrence: 45 years
Occupation: Owner of Glass House Liquor
Dream job: I don't know. This is the easiest job I have ever had.
What were you doing when scouted: I just stepped outside.
Describe your style: Most of the time, my style is very casual work clothes.
Fashion trends you love: I don't know anything about fashion trends. But I like colorful long-sleeved shirts and T-shirts. I really like nice casual shirts like the one I have on.
Fashion trends you hate: Saggy pants. The other day, I saw someone walking out of my store and I was concerned that he wasn't going to make it out because of his saggy pants. I guess it's just my age.
Fashion influences: I get my ideas from catalogs like Territory Ahead or Crazy Shirts, which is out of Honolulu.
What would you like to see more of in Lawrence? It would be great if we had a Social Suppers venue here in Lawrence. It's a fun place where you can easily put together meals to stock your freezer for the family.
Less of? Apartments.
Tattoos or piercings: None
Who do people say you look like? I haven't had anyone tell me who I look like in a long time. When I was young it was Steve McQueen, but that was like 50 years ago.
What type of music do you unwind to: I like current music like Top 40, classic rock and oldies. I don't like rap much.
What? You don't like the Harlem Shake? That popular dance? No, I didn't say that! My son would kill me for saying that. I do like the Black Eyed Peas, though!
Tell us a secret … My guilty pleasure is American Idol.
Copyright 2018 The Lawrence Journal-World. All rights reserved. This material may not be published, broadcast, rewritten or redistributed. We strive to uphold our values for every story published.