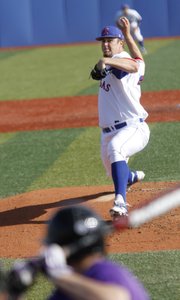 Kansas University freshman Tommy Mirabelli admits he's never done exercises like this on a baseball field.
Before games, KU baseball strength and conditioning coordinator Luke Bradford has Mirabelli and his teammates turn left, right and cross over in warm-ups — just like the KU defensive backs do at spring practices across campus.
"It's just a football sense of explosiveness," Mirabelli said. "I think we can take it over to the baseball field."
It certainly worked for KU on Thursday, when the Jayhawks stole nine bases in a 7-0 victory over Niagara in their home opener at Hoglund Ballpark.
The nine swipes were the most by a KU squad in the Ritch Price era and the most since the Jayhawks had 10 on March 18, 2000, against Oklahoma State.
"Obviously, it's been a point of emphasis," Price said, "not only stealing second, but stealing third."
Six Jayhawks had steals, which included two from Tucker Tharp and three from Michael Suiter.
Mirabelli said Bradford deserved a lot of the credit, since KU's workouts also include 800-yard runs around the stadium and 100-yard sprints.
"I think he's done a fabulous job of just getting after it," Mirabelli said, "and pushing us to our limits."
Mirabelli helped KU's offense break through in the second inning.
After Jacob Boylan and Suiter led off with singles, Tharp popped up a bunt attempt for an out before a Ka'iana Eldredge grounder moved the runners to second and third.
The left-handed-hitting Mirabelli followed with a two-run double to left-center to put KU up, 2-0.
"I put myself in really good hitting counts today," Mirabelli said. "I got a lot of fastballs, and that's what I was expecting throughout the day, so I just took advantage of those pitches."
The Jayhawks also received solid pitching from a fill-in. Sophomore right-hander Drew Morovick made the start on three days rest after starter Tanner Poppe was scratched because of arm soreness.
Though Price was hoping Morovick could give him three innings, the right-hander ended up going five, allowing three hits with no walks and no strikeouts.
Four pitchers teamed up for the shutout, but KU also combined for just two strikeouts.
"If you continue to get as many balls hit with two strikes as we gave up today and you play good teams, those balls are going to find holes and score runners with two outs and two strikes," Price said. "We've got to do a better job of finishing hitters, no doubt about it."
Mirabelli led KU's offense, going 2-for-2 with a walk and three RBIs. He also contributed a sacrifice fly, the 13th this season for KU after the Jayhawks had 14 all of last season.
Lawrence native Jordan Dreiling added two hits and two RBIs for KU (7-5).
Because of expected rain, KU has changed the rest of its weekend schedule against Niagara (3-10). The Jayhawks will play a doubleheader starting at 2 p.m. today then will attempt to play the series finale at 1 p.m. Saturday. If that game is rained out, the two teams will conclude the series at noon Sunday.
Niagara 000 000 000 — 0 7 1
Kansas 020 012 11x — 7 9 1
W — Drew Morovick. L — Drew Fittry.
E — Greg Rodgers, NU; Tommy Mirabelli, KU. DP — KU 1. LOB — NU 8, KU 9; 2B — Christian Vangeison, NU; Logan Linder, NU; Tommy Mirabelli, KU. 3B — Jordan Dreiling, KU. HBP — Alex DeLeon, KU. SH — Justin Protacio, KU. SF — Tommy Mirabelli, KU; SB — Dakota Smith, KU; Justin Protacio, KU; Jordan Dreiling, KU; Alex DeLeon, KU; Michael Suiter 3, KU; Tucker Tharp 2, KU.
Time: 2:20. Attendance: 762.
Copyright 2018 The Lawrence Journal-World. All rights reserved. This material may not be published, broadcast, rewritten or redistributed. We strive to uphold our values for every story published.