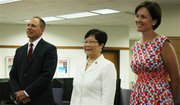 Manhattan — Gov. Sam Brownback today appointed three new members to the Kansas Board of Regents and vowed to work to restore recent funding cuts to higher education.
Shane Bangerter, an attorney from Dodge City; Ann Brandau-Murguia, a commissioner for the Unified Government of Wyandotte County/Kansas City, Kan.; and Helen Van Etten, a Republican national committeewoman and audiologist with the Topeka school district were appointed to the regents.
They are replacing Christine Downey-Schmidt, a former state senator from Inman, Janie Perkins, a school district administrator and former mayor of Garden City, and Dan Lykins, a Topeka attorney.
The nine-member board oversees the six state universities, 19 community colleges and six technical colleges.
Brownback described his appointees as an "all-star team," who are passionate about the state.
Incoming Regents Chairman Fred Logan said to Brownback "You've knocked a home run."
The three come onto a board that has been highly critical of recent cuts to higher education, totaling $44 million over two years, approved by the Legislature.
When asked about those cuts, the three appointees shied away from making a definite statement, agreeing they needed to learn more about the budget issues.
Brownback said he disapproved of the cuts, but he signed them into law. On Thursday, he said, "I'm going to fight to get that restored."
Brownback said he has been meeting with legislators about higher education funding. "I think we have a good shot of getting stable funding for our four-year institutions."
In comments during a news conference, Bangerter, who is vice chair of the Dodge City community college board, said he wanted to make sure that higher education remained open, accessible and affordable.
Murguia agreed, noting the high poverty in her area, and Van Etten said her primary passion was education.
Copyright 2018 The Lawrence Journal-World. All rights reserved. This material may not be published, broadcast, rewritten or redistributed. We strive to uphold our values for every story published.