For the seventh time in eight years, the World Company Cup belongs to Free State High.
The trophy, awarded since 2006 to the school that prevails most often in City Showdowns and other competitions between rivals Lawrence High and Free State, spent the last year on display at LHS.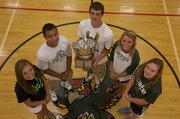 World Company Cup Standings
Here are the standings for the World Company Cup, which tallies the head-to-head meetings between Lawrence and Free State high schools. In sports that do not meet in direct, head-to-head competition, the World Company Cup point is awarded to the team that places higher in the first postseason meeting that involves both schools.
FSHS LHS
Football 1 0
Volleyball 0 1
Boys soccer 0 1
Girls tennis 1 0
Girls golf 0 1
Boys cross country 1 0
Girls cross country 0 1
Gymnastics 1 0
Boys swimming 1 0
Boys basketball 1 1
Girls basketball 2 0
Wrestling 0 1
Boys bowling 0 1
Girls bowling 0 1
Boys tennis 1 0
Girls swimming 1 0
Boys track 1 0
Girls track 1 0
Girls soccer 1 0
Baseball 1 1
Softball 2 0
Boys golf 1 0
Totals 17 9
World Company Cup history
2006 — Free State, 17-10
2007 — Free State, 18.5-13.5
2008 — Free State, 18-11
2009 — Free State, 17.5-14.5
2010 — Free State, 17-9
2011 — Free State, 19.5-7.5
2012 — Lawrence, 14.5-13.5
2013 — Free State, 17-9
However, the Lions' claim to the cup proved short-lived, as Free State conquered the Lions, 17-9, in the standings.
Each school owned eight points after the completion of the winter sports season, but the Firebirds' stellar spring earned them a point apiece for victories in boys tennis, girls swimming, boys and girls track, girls soccer, baseball and boys golf, plus two more points for a softball sweep.
The football, girls tennis, boys cross country, gymnastics, boys swimming and boys basketball teams at FSHS also beat out their rivals for one point, and the girls basketball team swept LHS for two more.
"It was a lot of fun to be the better school in athletics this year," said FSHS Class of 2013's Chelsea Casady, who contributed to girls basketball and soccer wins during her senior year. "It's great to be a part of it."
It will be hard for Casady to forget the way the student body got behind the Firebirds every time they played the Lions.
"We always joke around like, 'We hate LHS,' and stuff like that," Casady said. "But everyone gets so hyped up and everyone comes to all the games. It's really important not to let your whole school down."
Free State's girls programs, including the Class 6A state champion track team and state runner-up swimming team, rarely faltered. They went 9-4 in the cup series against LHS.
Kennedy Kirkpatrick, who averaged 17.5 points a game against Lawrence in her final basketball season, said the female athletes took a lot of pride in their performances.
"I think we're as competitive, if not more, than the guys," Kirkpatrick said. "You don't want to lose an in-town rivalry game, obviously."
Courtney Parker, who played in one rivalry basketball game and both FSHS softball victories against LHS, agreed that the girls try to be just as successful as their male counterparts.
"You want to be able to say: We beat LHS," Parker added. "My freshman year we lost to them (in softball), and that was a big deal. So we tried not to let that happen ever again."
The City Showdown never reached a greater fervor than when LHS and Free State met in the football regular-season finale, with both teams 7-1 and vying for a district championship. Firebirds quarterback Kyle McFarland threw for 209 yards and two touchdowns in Free State's 28-14 victory at Lawrence.
"That football crosstown rivalry game was one for the books," McFarland said. "People were talking that it was the biggest game ever between us, and it probably was, with the (teams') records and how many fans were there. It was fun. To win it was even that much better."
His classmate Demarko Bobo, who started at cornerback and competed in the long jump for FSHS track, said the school's athletes felt as if they had a dominant year, and it started with that football win.
"I'll probably always remember it," Bobo said, "because it was a good team, there were a lot of my friends, and I won't have that opportunity to play with them again. It meant a lot to me."
Copyright 2018 The Lawrence Journal-World. All rights reserved. This material may not be published, broadcast, rewritten or redistributed. We strive to uphold our values for every story published.