Brenna Buchanan Young goes over the fine points of a building like investigators go over a crime scene. No detail is too small to matter.
In fact, maybe we're on to something here. The "CSI" TV show franchise has made millions. Maybe there is potential for "BHI" — building history investigator — and it could be based right here in Lawrence.
As Lawrence prepares to commemorate the 150th anniversary of William Quantrill's deadly, Civil War-era raid on Lawrence this August, there is quite a bit of building history investigation going on.
A few investigations, actually, have produced quite a bit of excitement in Young's circles. But be forewarned: Unlike the "CSI" folks, it is not blood spatters or DNA that gets BHIs like Young excited. It's coining.
Yes, I was excited too when I thought that word described a process to put more coins in my pocket. But it's not. It is an architectural term used to describe the stacking of cornerstones of a building.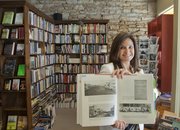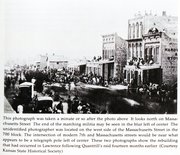 And when Young — an architectural historian by training — saw the coining in an October 1864 photo of downtown Lawrence, she became excited. The coining on the building at 706 Massachusetts St. — which now houses The Dusty Bookshelf — is strikingly different than the coining on the second story of the building. The grainy photo also allowed Young to see the side wall of the building because the lot next to it was vacant in 1864. The evidence there also is striking: Limestone rubble was used on the second story but not on the first.
Young is now confident in saying the clues strongly suggest the ground floor of the 706 building survived Quantrill's Raid. Only the second story was rebuilt.
All right, maybe that isn't the type of dramatic discovery that makes for a hit television show. But if you love Lawrence — Young is a Lawrence native — it is important because it may spark a point of historic pride: William Quantrill didn't take as much from us as we thought he did.
• • •
The seminal moment of Lawrence's history generally is boiled down to this: Infamous raider William Quantrill comes to Lawrence in the early-morning hours of Aug. 21, 1863, kills about 180 men and boys and leaves the town in ashes.
The general thinking is, because of that atrocity, most of the physical pieces of Lawrence's pre-1863 history have been lost forever — destroyed by a hell-bent Missourian.
Historians for a while now have taken issue with part of that narrative. It isn't quite accurate to say the entire town was burned. Young estimates there were 70 to 80 structures outside of downtown that survived the raid. Young believes there are quite a few that still exist, probably housing people who have no idea they are living in a home that survived the wrath of Quantrill.
"It wasn't a burnt town," Young says. "It was a burnt district."
The district, of course, was downtown. Historians generally have agreed that downtown Lawrence was almost entirely decimated by the raid. The thinking has been that maybe one, two or three buildings — the buildings that today house Francis Sporting Goods and Goldmakers jewelry are most often cited — survived the attack. The general consensus has been that much of what existed downtown prior to 1863 doesn't exist there today.
But the BHIs aren't so sure now. The upcoming commemoration of the 150th anniversary of the raid — Young is the project manager for the Lawrence 1863 group — has caused many people to pull photos from their attics and submit them to people such as Young and to places such as the Watkins Community Museum of History.
The pending commemoration also has sparked projects in which history buffs are taking a closer look at photos that have been on file for years.
Young has seen many clues that suggest more buildings survived than previously thought. In doing historical forensics on the area from New Hampshire to Vermont and from Sixth to 13th streets, Young has come to believe that there are at least 100 buildings that either had significant portions survive the raid — or used large amounts of their original materials to rebuild.
It is exciting, Young says, because like most architectural historians she has a theory about buildings.
"Buildings do talk, if you know how to translate what they're saying," Young says.
Come to find out, Lawrence buildings may have more to say than we thought.
• • •
This is where history gets tricky. One of the great Lawrence stories is about how the community came together and rebuilt in the wake of the raid. The phoenix out of the ashes. If there were fewer ashes, however, does that make the story less heroic?
Young doesn't think so. She goes back to that October 1864 photo that we previously mentioned. That photo shows that just 14 months after the raid, 706 Massachusetts St. had been rebuilt to two stories, 710 Massachusetts St. had been rebuilt to three stories and 712 Massachusetts had been rebuilt to two stories. That's an impressive amount of work even using today's construction methods.
"There really is no question about the spirit of Lawrence and how determined they were to have Lawrence maintain its status as an up-and-coming metropolis and as an abolitionist stronghold," Young says.
The fact that there wasn't quite as much to rebuild shouldn't diminish the story any, she says. In fact, it might even be cause to celebrate just a little bit.
Oops, I used the wrong c-word there. If you've noticed, we talk about the upcoming events that will mark the 150th anniversary of the raid as a commemoration, not a celebration. That makes sense: You don't want to celebrate the cowardly killing of about 180 Lawrence residents.
That's why "commemorate" is a leading candidate to be the Lawrence buzzword of 2013. But maybe we should make one exception to our reticence to celebrate this summer.
Maybe we all should go downtown and be reminded of a fact that we've known for a long time now. We can be reminded of the fact by the crowds, the commerce, the vitality that fills our downtown on any given day. And now, thanks to a little work from Brenna Buchanan Young and our other building history investigators, we can keep our eyes peeled for a stone or a marking or, heck, even coining that survived the raid.
It all will help remind us of this fact: William Quantrill — a man intent on destroying Lawrence and everything it stood for — was an utter failure.
And that's worth celebrating.
— Each Sunday, Lawhorn's Lawrence focuses on the people, places or past of Lawrence and the surrounding area. If you have a story idea, send it to Chad at clawhorn@ljworld.com.
Copyright 2018 The Lawrence Journal-World. All rights reserved. This material may not be published, broadcast, rewritten or redistributed. We strive to uphold our values for every story published.