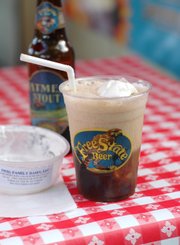 This only-in-Lawrence, build-it-yourself libation is available at the sole public location Free State Brewing Co. beer and Iwig Family Dairy ice cream regularly come together: the Thursday farmers market behind Cottin's Hardware and Rental.
Buy a container of vanilla ice cream from the Iwig stand (don't forget to ask for a spoon), buy an Oatmeal Stout from the Free State stand (don't forget to get a bendy straw), drink enough beer to free up some room in your cup, then drop in as much ice cream as you think it can handle. (Word to the wise: After this step there will be foaming. Delicious hoppy-bittersweet-creamy foaming.)
The hard stuff: Free State Brewing Co. Oatmeal Stout
Where it's served: Cottin's Hardware Farmers Market, 4 to 6:30 p.m. Thursdays at 1832 Massachusetts St.
What it costs: $6 ($3 for beer + $3 for ice cream = $6)
When it's on special: It's not, but you could make it cheaper at home. Pick up a six-pack of Free State's Oatmeal Stout from your favorite liquor store and a larger tub of ice cream at the Iwig Family Dairy Store, 1901 Massachusetts St.
Other libations at this location: A few other Free State beers in bottles and whatever nonalcoholic creations the market vendors have on tap. While we've got mixing things ourselves on the brain ... wouldn't a Wheat State Golden and lemonade shandy hit the spot on a hot day?
Copyright 2018 The Lawrence Journal-World. All rights reserved. This material may not be published, broadcast, rewritten or redistributed. We strive to uphold our values for every story published.