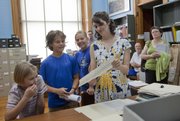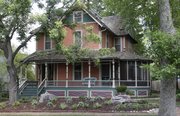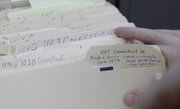 Upcoming program
A "Who Lived in My House?" program planned this week at the Watkins Community Museum of History will guide participants through looking up old homes and other buildings in Douglas County.
The free event is from 2-3 p.m. Tuesday at the museum, 1047 Massachusetts St. The program is recommended for ages 12 and up, and space is limited. To sign up, call the museum at 841-4109.
Gus Greenhoot, 11, knew Langston Hughes' teacher once lived in the same house he does. He'd even heard the famous writer lived there at one time, too, but hadn't ever gotten that part confirmed.
"I have an idea of the people that lived in my house," Gus said. "But I'm not really sure."
The Watkins Community Museum of History can help with that.
Its research room is a cache of historical information on all things Douglas County, including files and other resources on old homes and the people who lived in them. The museum recently offered a "Who Lived in My House?" program — and has another one scheduled Tuesday — to get curious residents like Gus pointed in the right direction.
"There are people that have been living in these houses for a really long time, and they have interesting stories," Abby Pierron, the museum's education and programs coordinator, told a group of about a dozen residents attending the last program.
Resources at the Watkins include city directories that go back to the 1800s, files on individuals of note and, in some cases, files on individual addresses.
Gus lucked out; 520 Louisiana St. had its own file.
And when Pierron looked inside, it even held the answer to Gus' question.
Pierron read aloud a transcription of a phone conversation from a former landlord to a tenant: "The room you're renting is the same I rented to Langston Hughes."
"And that's my room!" Gus said, his eyes lighting up.
Not everyone had such dramatic revelations.
Blue O'Leary, 11, lives in an 1889 home near 12th and Louisiana streets. After purchasing the house, her mother ripped up the floor to remodel the side porch and found a circa-1920s hairbrush beneath — which made Blue curious.
"I wanted to see if I could find people that lived here," she said.
Blue didn't find any information her family didn't already know about their house — at least none that's easily tracked down. But she learned more about the research process and said she might try again sometime.
Charlie and Judy Pohl are only the third owners of their 1927 house in Lawrence's West Hills neighborhood.
They knew the names of the previous owners but wanted to see if they could learn more about the house "just for fun," Judy Pohl said.
There was no house file for the Pohls, either, but the Watkins did have a file on one previous resident — a coal mine owner presumably responsible for the Pohls' house having an old vent fan from a coal mine in lieu of a typical attic fan.
Who lived in your house?
The Watkins Community Museum of History, located at 1047 Massachusetts St., offers these suggestions for researching who lived in your home.
To use the Watkins research room, first call the museum at 841-4109 to set up an appointment. Then look for these resources:
• Lawrence City Directories: Many directories organize listings by street address, though some older books list locations by the resident's name, like a phone book. Tip: To find a house by its address, look in the sections titled "Street" or "Listings by street."
• People files: Once you find names of people who lived in the house, ask a museum staffer or volunteer to help you check the individual and family files catalog to see if there's a file on them. Such files include news articles about people who made significant contributions to Lawrence or Douglas County.
• Subject files: If the former tenant ran a business, worked at Kansas University or another large company, etc., you may find more about them and their work in the museum's subject files. Ask a staffer or volunteer for help using these files.
• Street files: If an address has been part of the city for a long time, there's probably a file on that particular house in the street files catalog. Tip: Prior to 1913, many streets went by different names. Ask for the list that shows the streets' old and new names.
• Douglas County government website: To find current information on the house, as well as its lot number, go online to www.douglas-county.com/online_services/valuestaxes/source.asp. This site lists property values and taxes paid on the property, as well as the current owner's name.
Copyright 2018 The Lawrence Journal-World. All rights reserved. This material may not be published, broadcast, rewritten or redistributed. We strive to uphold our values for every story published.