Dr. Adrian P. Jackson, orthopedic surgeon with Premier Spine Care of Leawood, has joined OrthoKansas LLC as a partner in Orthopedics.
Jackson specializes in disorders of the cervical spine and spinal reconstructive surgery and has begun seeing patients in Lawrence on Fridays.
Jackson attended college at Stony Brook University in New York, received his MD degree from St. Louis University, did an orthopedic surgery residency at Northwestern University in Chicago then received specialized training in the diagnosis and treatment of spinal disorders at the Twin Cities Spine Center in Minnesota. He is board certified by the American Board of Orthopaedic Surgery, is a member of the North American Spine Society and American Academy of Orthopedic Surgery.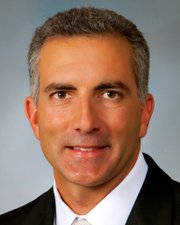 Debbie Rogers has joined Advanced Restorative Dentistry as a hygenist.
Rogers has practiced dental hygiene in Lawrence since 1993 and has worked with restorative and esthetic dentistry.
Copyright 2018 The Lawrence Journal-World. All rights reserved. This material may not be published, broadcast, rewritten or redistributed. We strive to uphold our values for every story published.