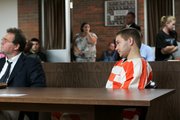 A Franklin County judge refused today to seal all documents in a May quadruple-murder case and set the course for a long trial process that will continue into 2014.
Franklin County District Judge Thomas H. Sachse is hearing the case of Kyle T. Flack, 27, of Ottawa, who appeared in Franklin County District Court charged in the killings of three adults and one 18-month-old child earlier this year in rural Ottawa.
Sachse set a schedule of pretrial hearings that will stretch for more than seven months and said that some, but not necessarily all, of the documents filed by attorneys could be sealed from public view. The judge said he will issue a ruling later this week on whether prosecutors can order DNA testing that might destroy several potential pieces of evidence in the case.
Flack faces charges of capital murder, first-degree murder, rape and criminal possession of a firearm in the deaths of Andrew Adam Stout, 30, and Steven Eugene White, 31, Kaylie Kathleen Bailey, 21, and Bailey's 18-month-old daughter, Lana-Leigh. The three adults were found on May 6 and May 7 in and around a house at 3197 Georgia Road, about five miles west of Ottawa. The child's body was found days later in rural Osage County.
Many who knew the victims were in the courtroom to hear the proceedings, including Andrew Helm, who was a longtime friend of both Stout and Flack. He said it was still difficult for him to understand the killings. "It still just doesn't seem real," Helm said. "It was just a couple of months ago."
Flack said almost nothing during the hearing today, except to confer with his attorney. He previously served four years in prison for attempted murder in another case and remains in Franklin County Jail in lieu of posting a $10 million bond.
Before today's hearing, prosecutors had asked the judge to seal all future court filings for the next several months, shielding them from public view. Preventing more details of the murder case from becoming public would forestall any claims by the defense that Flack could not have a fair trial in Franklin County, or an attempt to move the trial elsewhere, said Victor J. Braden, Deputy Attorney General for Kansas, who is leading the prosecution. "The state has a vested interest in keeping the case in Franklin County," he said.
Flack's court-appointed attorney, Ron Evans, head of the Kansas Death Penalty Defense Unit in Topeka, said he agreed with that request.
But the judge did not agree, saying a blanket order sealing all relevant court documents would be too much. Instead, Sachse said, each pleading filed with the court would be considered separately, to either be sealed or made public.
In a separate motion, prosecutors asked the judge to order DNA testing at a Johnson County crime lab on 13 potential pieces of evidence in the case. The items were not described publicly, but Franklin County Attorney Stephen Hunting, also part of the prosecution, said some of them could be destroyed by the act of testing.
Evans, the defense attorney, said he would object to any testing that would leave nothing for the defense to independently inspect.
Sachse said he would issue a decision on the DNA testing later this week. Flack is scheduled to again appear in court on Aug. 29 for another pretrial hearing. Three more of those hearings are scheduled before prosecutors present evidence in the case at a preliminary hearing on Feb. 24.
Copyright 2018 The Lawrence Journal-World. All rights reserved. This material may not be published, broadcast, rewritten or redistributed. We strive to uphold our values for every story published.