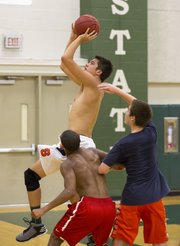 Most summers, Free State High boys basketball coach Chuck Law likes to get team camp week done early.
With so many of his players participating in football, too, Law didn't want to give them too many things to worry about at once in football-heavy June.

As it worked out, the first three days of July were really the only doable option. So the Firebirds — some with state tournament experience, some just out of middle school — spent three straight nights jam-packing all the hoops they could into their three-night camp, which concluded Wednesday.
Law considered having them come in on Independence Day as well but backed away from that idea like a freshly lit firework.
"I figured there would be a mutiny," Law joked. "Knowing the guys in this gym, I'm guessing they're gonna spend most of the day (on the Fourth of July) blowing stuff up."
Free State's veterans put aside their love for pyrotechnics when they were in the gym. Law needed seniors Cole Moreano, Reshawn Caro, Innocent Anavberokhai, Khadre Lane, Keith Loneker and Blake Winslow and junior Weston Hack setting examples for the program's youngsters, who might not be used to the style of play that goes on at the Class 6A varsity level.
"The older guys like to compete against one another," Law said. "It doesn't really matter what we're doing (in terms of drills) as far as those guys are concerned. They're gonna get after each other, which is nice."
Moreano said most of the camp time revolved around drills instead of scrimmaging, but the returning varsity players knew they had to use those opportunities to beat the guys across from them every time they could.
"We try to set the best example possible," Moreano said, "which sometimes isn't a great one with us. Sometimes we can get out of hand and mess around. But we try to show (the younger players) the respect we show our coaches and be good leaders."
The most competitive portions of Free State's summer docket have come at tournaments. Law said the Firebirds will play in the Lawrence MAYB tourney this weekend in order to build off what they've worked on at camp.
At their most recent tournament, the Rock U Shootout in Kansas City, Mo., Free State took first place.
"I think we're (still) a state tournament team," Caro said. "We had the pieces last year, and we have them this year. We know what it takes to get there."
Law said he doesn't worry about such things in the summer.
"That'll come in February or March of next year," the coach said. "For now, we just try to provide as many opportunities as we can in the summertime for our guys to get in the gym."
And Law knows that time, such as the past three nights, can be valuable for the players looking to move into varsity spots.
"Some of those guys coming up as sophomores, juniors, who didn't get that opportunity last year," he said, "it's a chance for them to show that they belong and they can compete against the returning seniors."
Copyright 2018 The Lawrence Journal-World. All rights reserved. This material may not be published, broadcast, rewritten or redistributed. We strive to uphold our values for every story published.