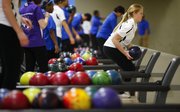 Free State senior bowler Chase Taylor rolled to first place with a 706 series, including a high game of 277, at the Firebirds' home quad on Tuesday at Royal Crest Lanes.
The Free State boys (2,439) defeated KC Schlagle (1,842). Eric Glogau (586), Matthew Eagle (549) and Jordan Jump (538) filled spots two through four.
The Free State girls (1,743) defeated Blue Valley West and KC Schlagle. Senior Emily Reno (473)and sophomore Bri Martin (460) took first and second for the Firebirds. Gentry Jordan placed fourth with a 424.
Brandon Givens bowled a 569 series for first among the junior varsity boys, while Hannah Stegall rolled a the high score, 363, for the JV girls. Both Free State JV teams placed first.
Copyright 2018 The Lawrence Journal-World. All rights reserved. This material may not be published, broadcast, rewritten or redistributed. We strive to uphold our values for every story published.