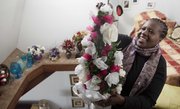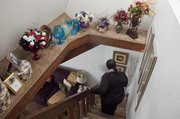 Lucille Stewart, of Lawrence, said she felt like royalty on her wedding day — despite spending only $1,000.
Stewart's purple-, forest green- and cream-colored wedding looked a lot more expensive than it was thanks to Mattie Neely, a Lawrence resident whose hobby is decorating and helping brides who are on a limited budget.
"She takes this tiny, little, nothing building and turns it into a princess land," said Jean Ann Pike, the store manager at the Social Service League in Lawrence, where Neely is a volunteer. "It is beautiful: incredible amounts of lace, flowers and ribbons. It just looks like every little girl's dream come true."
For Stewart, it was a dream come true and more. Her wedding was held at the Praise Temple Church of God, 315 E. Seventh St., in 2010. The Rev. Paul Winn married the Stewarts, while his wife, Elaine Winn, helped Neely decorate the wedding.
"Mattie and the pastor's wife explained to me what a wedding was and what to expect," Stewart said. "They helped me pick out a nice-looking dress and took care of the girly side of it, because I didn't grow up with a mom. My mom passed when I was 8, and they stepped in and acted like a mom to me."
Some of the brides Neely has helped, including Stewart, were members of the Praise Temple Church and did not have to pay for the church or the minister. Brides who aren't members of the church are required to make donations to the church.
Neely has been decorating weddings and helping brides for more than 10 years and has accumulated many reusable wedding items along the way. She keeps everything in her attic, which is full of colorful ribbons, artificial flowers, vases, hats, bouquets and dresses in many sizes. She rearranges these items to create something new for each wedding. Many of the items were donated or bought by Neely at a low cost from thrift stores, garage sales and craft stores.
"I've always liked to create things," Neely said. "I just do it for fun. There's no pay in it. I'm blessed by it, just by watching the happiness people get."
With an eye for design, Neely has the ability to turn an old wedding dress into a beautiful altar cover, candle holder, table runner or flower basket.
"Mattie has a special gift of wedding decorating and floral design," Elaine Winn said.
And the people she helps with her gift certainly appreciate it.
"It made me feel great," Stewart said. "It made me feel special. They were very helpful in all kinds of ways."
Copyright 2018 The Lawrence Journal-World. All rights reserved. This material may not be published, broadcast, rewritten or redistributed. We strive to uphold our values for every story published.