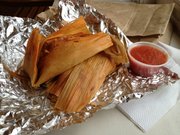 Lawrence has a lot of Mexican restaurants, and a lot of them serve tamales. But tamales from a drive-thru? Decorated with a mural of a Jayhawk in a sombrero? Until 2 a.m.? Burrito King has that market cornered. The hot treats — slightly spicy shredded meat encased in masa (dough) and steamed in corn husks — come wrapped in foil and stuffed in a brown paper sack with a couple of flimsy napkins, just as drive-thru food should.
Where to get it: Burrito King, 900 Illinois St.
What you'll pay: $2 each, $10 for a half-dozen, or $19 for a dozen.
Try it with: Salsa, also located in the aforementioned paper sack.
Also on the menu: Huge burritos for any time of day (breakfast burritos come with eggs, steak, chorizo, ham or bacon, or all of the above) and other Mexican foods of the hand-held variety. A sign on the side of the building lays claim to having the best Mexican soft tacos in town.
Copyright 2018 The Lawrence Journal-World. All rights reserved. This material may not be published, broadcast, rewritten or redistributed. We strive to uphold our values for every story published.