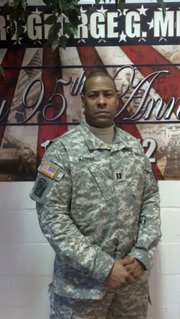 Lawrence High School graduate Capt. John M. Barbee will be a part of history Monday during the 57th Presidential Inauguration Parade in Washington, D.C.
Based out of Fort George G. Meade near Laurel, Md., Barbee is part of the 200th Military Police Command and is overseeing more than 90 soldiers marching with the U.S. Army Reserve to represent that branch of the military in the parade.
"It's a once in a lifetime opportunity to do this," Barbee, LHS class of 1986, said. "Not many people can say that they were asked to be a part of the actual inauguration. It's an honor to represent the U.S. Army and I'm excited and glad that our unit was trusted enough to be the lead agent on this mission."
Barbee and the soldiers he's overseeing have been preparing for the parade since they were assigned the task in early fall. Beyond the details such as parade drills and organizing uniforms, the soldiers had to file paperwork and get background checks in order to be cleared by the Secret Service.
Parade day will start at 2 a.m. After warming up and practicing, the soldiers will go to the Pentagon, where Secret Service agents will scan their bodies to be sure they aren't carrying weapons. After the scan the soldiers will move to the parade assembly line, where they will wait for the parade to begin at 2:30 p.m.
Parade participants are invited to attend the Inaugural Ball on Monday evening.
"We have a chance to meet the president and vice president, so we're all excited and honored," Barbee said.
Barbee said he is most excited for his children, who both live in Lawrence, to see him march in the parade on television.
Barbee's father, the Rev. Leo Barbee, and other family members also live in Lawrence.
Copyright 2018 The Lawrence Journal-World. All rights reserved. This material may not be published, broadcast, rewritten or redistributed. We strive to uphold our values for every story published.