Photo Gallery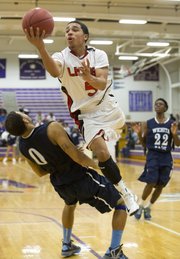 Lawrence High boys basketball vs. Wichita East
Topeka — Although the fourth quarter turned out to be the least successful eight-minute stretch of the night for Lawrence High's boys basketball team Thursday, the Lions forced enough defensive stops in the final minutes to overcome a series of late mistakes and knock off Wichita East, 63-57, in the first round of the Topeka Invitational Tournament.
LHS led by as many as 16 points in the third quarter and took a 49-39 advantage into the fourth at Topeka West High before turning the ball over four times in the first two minutes of the fourth quarter. The Blue Aces scored six straight points, cutting their deficit to four and partially negating what had been a successful game to that point for the Lions.
Lawrence coach Mike Lewis said it seemed like his players, some of whom had battled illnesses this week, began to get tired in the final minutes.
"We had some of our same looks," the coach said, "we just didn't have the momentum that we had in the first three quarters."
Senior shooting guard Jake Mosiman (game-high 21 points) hit his fifth three-pointer of the game and gave LHS (7-3) its first fourth-quarter bucket on an inbounds pass from senior Drake Hofer with 6:08 to play. Hofer scored on a baseline drive the next time down the floor, but after each case of Lawrence success, WEHS (6-3) answered with a basket of its own.
Following the Lions' fifth turnover of the quarter, East senior forward Jordan Hester scored on an offensive rebound. Then Hofer fouled out with four minutes left, and Blue Aces senior forward JJ Normore cut Lawrence's lead to 54-53 with a pair of bonus free throws.
WEHS never came any closer, though. Lawrence sophomore guard Anthony Bonner set up senior Austin Abbott for a transition layin with 3:43 left, then freshman point guard Justin Roberts finished an acrobatic layup, scooping the ball under the arm of a Blue Aces post defender before spinning it off the glass to give LHS a 58-53 cushion with 3:10 to play.
Senior East guard De'Shawn Terrel hit two free throws at the 2:00 mark, but Mosiman matched him with 1:11 remaining.
Terell scored inside after snagging a rebound on his own miss to get East within 60-57 with just 53 seconds to go.
Down a possession, the Blue Aces put Roberts on the foul line for a one-and-one opportunity. When Roberts missed, Mosiman secured the offensive rebound and was fouled. But he misfired on the front end of a one-and-one, too.
This time, WEHS senior center Luke Nespor came down with the board, and the Blue Aces had a chance to tie the game with a three-pointer from Terrel, but his shot rimmed out, and Mosiman pulled down the rebound.
Abbott, who scored 10 of Lawrence's 15 third-quarter points, finished his big second half by hitting his second of two free throws with 22 seconds left, giving him 13 points and extending the Lawrence lead to 61-57.
Afterward, Abbott said the game was too close in the closing minutes.
"Me, personally, I kind of made some bad decisions throwing the ball away," he said, "but I think we gathered ourselves, got together as a team and knew we could finish it off."
Bonner hung on to another Terell miss with 14 seconds to go and hit both of his free throws to seal the victory.
The victory set up an LHS rematch against Olathe South, whom the Lions beat, 48-44, Friday, at 6:45 tonight in a tournament semifinal.
Copyright 2018 The Lawrence Journal-World. All rights reserved. This material may not be published, broadcast, rewritten or redistributed. We strive to uphold our values for every story published.