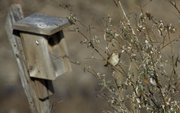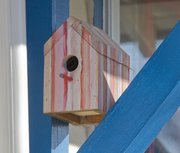 As we watch a nuthatch descend the trunk of nearby tree and listen to the uninterrupted chirping of numerous other birds, I understand why Julie Trowbridge-Alford provides food, water and shelter for birds in her yard.
"I find it nurturing to be out here," says Trowbridge-Alford, a master gardener and rural Lawrence resident.
Bluebirds are Trowbridge-Alford's favorite, and to attract them she uses houses that are designed especially for bluebird tastes.
"The size of the aperture and the slant of the roof are important," she explains, "and no pegs — bluebirds don't like pegs for some reason."
She also notes that bluebirds enjoy meadows over wooded areas, so the best bet for attracting them is to place their houses near an open area.
Up closer to the house, she uses more generally designed birdhouses and feeders. One house, tucked in near the front door, was just an art project, but a bird moved into it anyway.
"Yesterday I had a flicker (a type of woodpecker) out here on the ground," Trowbridge-Alford says enthusiastically. "My kitchen is right there, and I can see them all come by."
As a gardener, Trowbridge-Alford has an extra appreciation for birds. They help bees, butterflies and other insects with pollination of many flowering plants. Hummingbirds and orioles are especially important as pollinators. Birds are also important in pest control — bluebirds, swallows and other species eat insect pests. One of my favorite memories is watching a bird pick a hornworm from a tomato plant.
Another benefit is seed dispersal. Berry- and seed-eating birds carry and deposit seeds, sometimes to our dismay, but benefitting the plants on which they feed.
Just like other wildlife, bird habitat is declining as cities grow. Bluebirds especially declined in population in the 1960s, although fortunately their plight raised enough attention to change conservation practices. Providing shelter, food and water only helps these creatures.
Making a birdhouse
Birdhouses designed for bluebirds are widely available and are labeled as such. More generally designed houses attract a number of other birds, and a few species will be happy to nest just about anywhere you let them. Bluebird houses are also suitable for swallows, titmice, chickadees and wrens.
To attract bluebirds, mount the bluebird house to a post four to six feet above the ground near an open area. Face the opening toward a tree or shrub. Leave it unpainted, or use gray or tan paint to help it blend with its surroundings. To attract other bird species (especially in the absence of a meadow), mount the house 10 to 15 feet up on a pole or tree in an area with more trees around. For other birds, follow recommendations specific to the type of bird you are trying to attract.
Trowbridge-Alford says maintenance is important. Bluebird houses should be cleaned out in February, which just means removing the old nests. This is before the birds start building their nests in late February and March.
She also keeps a close eye out for sparrows that try to move in, and removes their nests to deter them. Bluebirds will have two broods per year, with the second set in June or July. The nests are used only for hatching and raising babies, although the birds are year-round residents in Kansas.
Birds can occasionally become nuisances when they get in high populations, consume crops and cause structural damage. These are special situations that should be dealt with on their own merits.
Trowbridge-Alford reminded me that Kaw Valley Eagles Day, from 9 a.m. to 4 p.m. Saturday at Free State High School, offers another opportunity to learn about birds and bird habitat. The event is sponsored by Jayhawk Audubon Society, of which Trowbridge-Alford is a member, the U.S. Army Corps of Engineers, and USD 497.
Bird lovers might also consider participating in the Great Backyard Bird Count sponsored by Cornell University, Feb. 15-18.
Copyright 2018 The Lawrence Journal-World. All rights reserved. This material may not be published, broadcast, rewritten or redistributed. We strive to uphold our values for every story published.