Eastbound lanes of the Kansas Turnpike were reopened Wednesday by 3:30 p.m., after traffic was blocked for hours by a semitrailer that caught fire this morning. The truck remained on the turnpike until afternoon after the fire was extinguished about 11 a.m.
The truck caught fire at mile marker 217, which is 13 miles east of the East Lawrence interchange.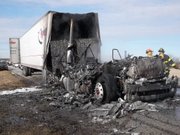 Fire departments from Reno, Stranger and Fairmount townships in Leavenworth County responded to the fire. No injuries were reported, said Randy Gilliam, assistant chief of the Stranger Township Fire Department.
The truck was "fully involved" in flames, and caught fire just after it passed through the toll booth, Gilliam said. The driver stopped the truck to inspect the brakes and found them so hot they caused the tires to catch fire.
Towing crews were still working to clear the road at 1:30 p.m. Because of the damage, it was necessary to separate the truck and the trailer and unload part of the trailer's cargo. The truck was carrying aluminum cans for recycling.
Because of cold temperatures in the shadow of the semitrailer, KTA workers salted the turnpike to prevent water from the firefighters' efforts from turning to ice.
Copyright 2018 The Lawrence Journal-World. All rights reserved. This material may not be published, broadcast, rewritten or redistributed. We strive to uphold our values for every story published.