Plans to improve the safety on a dangerous stretch of Stull Road near the Shawnee County line are being scaled back this week as Douglas County commissioners brace for the possibility of serious budget shortfalls in the next two years.
The project, which is part of the county's long-range Capital Improvements Plan, or CIP, is scheduled for construction this year. It originally was budgeted at $4 million.
But commissioners voted 2-1 Monday to narrow the scope of the project, with a revised budget of about $1.25 million. The money cut is to be put aside in a contingency fund for use in future years.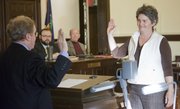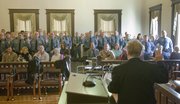 Last month, commissioners took similar action and scaled back a major reconstruction project for Route 1055, which runs north and south between Lawrence and Baldwin City. That project, also slated to begin this year, has been pared back from $11 million to $4 million.
County Administrator Craig Weinaug said there are three factors looming that could cut deeply into county revenues:
• An expected 2 percent decline in the county's assessed valuation, due to adjustments made because property has been over-appraised in previous years, which would cost the county about $2 million a year in property taxes.
• The possibility that Kansas lawmakers will pass legislation this year to reclassify certain industrial buildings and facilities as "machinery and equipment," which would exempt it from property taxes, resulting in an estimated $3 million loss of revenue for the county.
• And the possibility that lawmakers will pass legislation to reimpose a property tax lid on local governments, limiting their ability to raise tax levies in the future.
Commissioners held a special meeting Monday morning, primarily to swear in the two commissioners who were re-elected in November, Democrat Nancy Thellman and Republican Jim Flory. That ceremony was followed by a work session on the CIP.
Thellman and Commission Chairman Mike Gaughan, a Democrat, voted in favor of scaling back the projects. Flory voted against the motion, calling it "short sighted" and arguing that the commission should wait to see if legislative action affecting the county's budget actually materialize.
Copyright 2018 The Lawrence Journal-World. All rights reserved. This material may not be published, broadcast, rewritten or redistributed. We strive to uphold our values for every story published.