Winter Weather
Winter weather information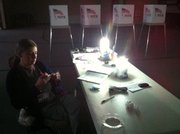 It's a winter wonderland in Lawrence.
It's also Election Day. The polls are open until 7 p.m. today as voters head to the polls to narrow the field of Lawrence City Commission candidates from 11 to six. The April 2 General Election will determine the three winners.
Two primary election voting sites — Trinity Lutheran Church and Southside Church of Christ — are without power. However, voters still can cast ballots there.
And by about 7:20 a.m., county officials were reporting that all Lawrence precincts were open and operating. In addition, County Clerk Jaime Shew has said that voters are welcome to cast a ballot at any polling place in Lawrence. All seats on the City Commission are at-large seats, so all ballots will be the same throughout the city.
Town Talk Election News
Find out more about what to expect with tonight's Lawrence City Commission election returns, and log on to tell us about your experiences at the polls today.
At about 10:30 a.m. today, Shew said there were a few voters making their way to the polls. He said many precincts were reporting 10 to 20 voters had arrived since opening at 7 a.m.
"I think that is actually pretty remarkable given the conditions this morning," he said.
Voter numbers are expected to pick up as weather conditions perhaps improve this afternoon, Shew said. But he said he believes there may only be about 2,000 voters go to the ballot box today.
But advance total were significantly higher than in a normal election. Shew said 1,200 advanced voters showed up on Monday alone. For the entire advanced voting window, about 3,000 ballots were cast. It is possible, Shew said, that more people will have voted in advance than on the day of the election.
Shew said there were no major problems to report at polling place this morning. But he said he continues to be concerned about losing power at polling places, as multiple reports of falling limbs continue from around the city.
Douglas County uses a paper ballot system, so polling places can remain open without electricity, Shew said.
Copyright 2018 The Lawrence Journal-World. All rights reserved. This material may not be published, broadcast, rewritten or redistributed. We strive to uphold our values for every story published.