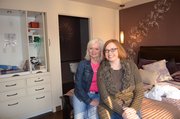 Shawnee — Cathy Gordon, a Shawnee resident and co-owner of New Birth Company in Overland Park, says a paradigm shift in the nation's approach to childbirth is under way.
More mothers are choosing midwife-led birth centers like hers over traditional hospital deliveries, Gordon said, and the release of a new outcomes study could accelerate the shift. Her partner, Kendra Wyatt, who left a career with Cerner Corp. to help open New Birth Company in 2011, agrees.
"I truly think this study is a watershed movement in the (midwife-led) birth center movement because it empirically proves that the outcomes of birth centers are superior to the status quo," Wyatt said.
Conducted by the American Association of Birth Centers, the national study shows that women who receive care at midwife-led birth centers incur lower medical costs and are less likely to have cesarean births than women who give birth at hospitals.
The study was based on more than 15,500 women at low risk of delivery complications who received care at 79 U.S. midwife-led birth centers from 2007 through 2010. It found that fewer than 6 percent of those women required cesarean births while nearly 24 percent of similarly low-risk women cared for in hospital settings required cesarean sections.
Gordon said about 250 babies have been delivered at New Birth Company, the only midwife-led birth center in Johnson County, and it has maintained a cesarean rate of only 3 percent.
Conversely, the nationwide cesarean birth rate hit 32 percent in 2010, generating concern about the short- and long-term health implications for women, their newborns and future pregnancies, according to the American Association of Birth Centers.
Gordon expects that rate to decline as the percentage of U.S. women delivering in hospitals — currently 96 percent — declines and access to midwife-led birth centers improves. And as the C-section rate declines, so will costs, she said.
"Given lower costs in the birth center setting, as well as low rates of cesarean birth," the AABC found, "the 15,574 births in this study may have saved more than $30 million in facility costs."
According to Wyatt, the $4,500 cost of prenatal care, primary care, labor and delivery at New Birth Company is about a third of the cost of traditional hospital care. And the care that mothers receive from her company includes an emphasis on healthy lifestyles and nutrition aimed at preventing costly chronic conditions like diabetes and heart disease, she said.
Wyatt, who worked 13 years for Cerner Corp., a Kansas City-based pioneer in the health information technology field, said she first became sold on midwife-led birth centers as "a corporate mom looking for the highest quality, most affordable, natural child birth option."
Her search, conducted in 2006 when she was pregnant with her son, Easton, led to a birth center at the Mercy & Truth Medical Missions clinic in Kansas City, Kan. That center was dedicated to serving an uninsured, underserved population — clearly a group that Wyatt did not fall within.
"But I knew that was the best choice," she said, "because it offered the best odds of having a low-intervention birth and a great birth experience."
Gordon, a former nurse practitioner in the Shawnee Mission Medical Center emergency department, left that position in 1995 to help found Mercy & Truth Medical Missions. That nonprofit organization continues to provide care for low-income patients at three metropolitan clinics, including one in Shawnee, while sending medical mission teams around the world.
But Gordon decided to leave her Mercy & Truth post after guiding the launch of two birth centers for low-income populations and, in the process, realizing the demand for similar centers to serve the area's insured population.
Wyatt had also witnessed that demand. And during conversations with Gordon that continued after her 2006 delivery, the two would talk about "what we could do as empowered women to change that, to make a difference," Wyatt said.
"Eventually, Cathy gave me a call and said, 'Let's do this,'" she added. "So both of us stopped what we were doing and invested our time and treasure" in New Birth Company.
Gordon, who is CEO of the company, and Wyatt, its chief innovation officer, said they plan to open more birth centers in the Kansas City area. And they expect others to follow suit.
Currently, 14 hospitals in the metropolitan area deliver babies, Gordon said, adding, "Get ready, Kansas City, there are going to be 14 (midwife-led birth centers)."
The risk of complications means there always will be a place for hospital maternity services, said Gordon, whose company maintains hospital and physician referral arrangements in the event of emergency situations.
But the vast majority of mothers should be having their babies "caught" by midwives, who are prepared to assist with labor whenever it happens and as long as it takes, she said.
Gordon said that's often not the case in hospitals because obstetricians' availability is more limited, mothers want "their" obstetrician to deliver the baby, and the obstetrician wants to get paid for catching it. All that often leads to unnecessary birth inductions, which greatly increase the risk of C-sections, she said.
Copyright 2018 The Lawrence Journal-World. All rights reserved. This material may not be published, broadcast, rewritten or redistributed. We strive to uphold our values for every story published.