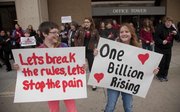 A dancing mass of people tends to turn heads — or at least that's what organizers were hoping for with Lawrence's One Billion Rising "dance strike."
At 5:30 p.m. Thursday, nearly 100 men and women shook and shimmied for three minutes at Ninth and Massachusetts streets.
"We are dancing to say we will not tolerate violence against women anymore," event organizer Elizabeth Chabin said. Chabin said 1 in 3 women worldwide will be affected by some sort of violence.
The dancing was not limited to Massachusetts Street. Throughout the day, groups of people danced in areas across Lawrence from the Kansas University campus to the Lawrence Public Library, 700 New Hampshire St., to the Meadowlark Estates retirement community, 4430 Bauer Farm Drive.
Bonita Yoder, a Lawrence attorney who participated, said the event was a way of giving the people of Lawrence and the world a Valentine's Day present.
"As an attorney who's working divorce cases, I've seen the effects of violence," she said. "I wanted to take a stand for women around the world."
The Lawrence event was part of a worldwide demonstration, with events going on in more than 150 countries.
"If we could get 1 billion feet moving, maybe we could move the world," Chabin said. Chabin decided to plan the event after being moved by a video of one of the demonstrations in New York last year. She took to social media, and within two months had organized and choreographed the dance.
Free State High School teacher Andrew Nussbaum, who attended with some of his students, said the event also helped build community.
"We have an opportunity to build relationships and bridges," he said. "When I see our young people out and when I see them energized, it makes momentum."
Copyright 2018 The Lawrence Journal-World. All rights reserved. This material may not be published, broadcast, rewritten or redistributed. We strive to uphold our values for every story published.