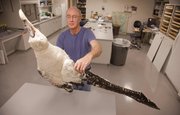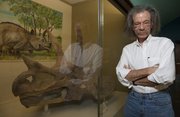 A fog envelops a 5-foot-wide, 6-foot-tall metal tank on the first floor of Kansas University's Dyche Hall. Frost covers the hatch on top.
Inside, it fills with liquid nitrogen, enough to freeze the pieces of animal tissue inside at about minus 170 degrees Celsius (about 270 below zero Fahrenheit).
Before this winter, those tissues sat in a freezer plugged into the wall. The sometimes decades-old samples, and the genetic clues they might contain, were at the mercy of the electricity on campus.
The two new cryogenic tanks — about $100,000 apiece — are just one piece of an effort to bring the KU Biodiversity Institute facilities inside 110-year-old Dyche Hall into the current millennium. After a two-year, $3.5 million renovation, eight new laboratories plus those cryogenic tanks are ready for use in Dyche, which houses the Biodiversity Institute as well as the institute's public face, the KU Natural History Museum.
"It enables us to provide 21st century training and 21st century science to the next generation of scientists," said Leonard Krishtalka, the director of the Biodiversity Institute and the museum. This is the biggest advance in the institute's research capabilities since a renovation in 1963, he said.
The scientists and student researchers at the institute can now make use of new labs for every step in their study of plant and animal specimens, from preparing animals' bodies and tissue for storage to producing computer-powered genetic sequences.
The project was prompted by a $1.5 million grant awarded from Obama Administration stimulus funds back in 2009. KU also directed nearly $2 million in state appropriations toward the renovations, and private gifts also chipped in.
To qualify for the federal grant, awarded by the National Science Foundation for infrastructure improvements at academic research institutions, the institute had to demonstrate a peculiar mix of characteristics: a record of outstanding scientific research, combined with outdated and crumbling facilities and equipment that could propel that research to a new level if replaced with state-of-the-art goods.
KU's Biodiversity Institute met the bill. It trains more graduate researchers than any other biodiversity institution in the country, with 50 or 60 in residence each year. But some of the labs in Dyche Hall (built in 1903) hadn't seen major renovations in 50, 60 or 70 years.
"In our opinion, we had an open-and-shut case," Krishtalka said.
Researchers now have a separate lab where they can extract delicate DNA samples from tissue. These scientists once operated from cramped corners of labs where other work was going on, putting those tissues at risk of contamination that would ruin them.
Some such samples would cost thousands of dollars to replace if ruined. Others could not be replaced at all.
"You can never go back to 1948 and collect that salamander from that stream again," said Lori Schlenker, a collections and facilities coordinator at the institute.
Another new lab is dedicated to DNA sequencing. The genetic information extracted earlier is replicated until it's large enough to be measured, and powerful computers produce genetic maps that scientists can examine for evolutionary clues.
And a five-times-bigger server room makes that computing power possible, without the need for IT workers to come in at 2 a.m. over the summer to fan off overheating units.
New preparation labs allow scientists and groups of students to use expansive counter space to study animals' anatomy and prepare their bodies for storage. Ornithologist Mark Robbins said that he and maybe one or two students once had to cram into a closet-sized area for such work.
In the morphology lab, where scientists examine skeletons and other anatomy, they'll no longer need to gather up desk lamps from around the building to produce the proper amount of heat to take a specimen out of its case. New stations equipped with heat lamps can do that now.
Those new cryogenic tanks not only store tissue samples at much colder temperatures than electric freezers did before, but they'll protect those valuable specimens for up to three weeks in case of a power outage. If that seems excessive, consider that one research institution in New York lost 40 years' worth of samples when Superstorm Sandy knocked out power for days last fall, Krishtalka said.
And a new Geographic Information Systems lab, once just a row of computers along a wall, can help researchers track and predict the potential spread of disease-carrying mosquitoes or birds or the possible movement of species affected by climate change.
Altogether, Krishtalka said, the new facilities and equipment can help the institute move beyond just recording information about lizards or birds into forecasting developments affecting humans' health, food and economies.
"That's when science becomes powerful," Krishtalka said.
The museum will show off the new facilities next week, allowing visitors to take tours beyond the museum into the labs where Biodiversity Institute scientists work. A dedication reception and tours of the renovated areas will run from 3 p.m. to 5 p.m. Feb. 12 (Charles Darwin's birthday) at Dyche Hall. Chancellor Bernadette Gray-Little, Krishtalka and others will speak. Anyone who wishes to take part should RSVP by emailing biodiversity@ku.edu or calling 864-4540.
Copyright 2018 The Lawrence Journal-World. All rights reserved. This material may not be published, broadcast, rewritten or redistributed. We strive to uphold our values for every story published.