Photo Gallery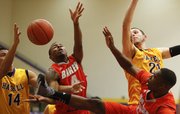 Haskell basketball v. Baker
Images from Tuesday night's game between the Fighting Indians and Wildcats at the Coffin Sports Complex.
The Haskell Indian Nations University men's basketball team defeated nearby Baker University, 72-62, on Tuesday at HINU's Coffin Sports Complex.
The win raised Haskell's record to 3-8. Baker fell to 6-6.
Baker held a 28-24 halftime lead but was outscored by Haskell, 48-34, in the second half.
Freshman forward TsaLiDi Sequoyah led Haskell with 19 points off 9-of-14 shooting with nine rebounds. Sophomore center Ron Rousseau added 14 points and 7 rebounds.
Haskell and Baker both travel to McPherson this weekend for the McPherson Classic. On Friday, Haskell will face Bethel College (7:30 p.m.) and Baker will take on McPherson (8 p.m.). Baker will play Bethel at 3 p.m. on Saturday, and Haskell will face McPherson at 5 p.m.
Copyright 2018 The Lawrence Journal-World. All rights reserved. This material may not be published, broadcast, rewritten or redistributed. We strive to uphold our values for every story published.