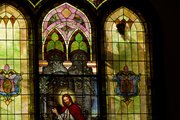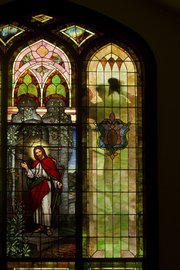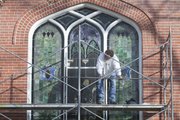 Eudora — It's late afternoon and Wade Walchak hasn't taken a lunch break yet. Instead, he's steadying the balls of his feet on scaffolding outside St. Paul United Church of Christ, 738 Church St., and studying the stained-glass windows he has been tasked with saving.
Sun peeks between clouds to illuminate the red panes of Jesus' robe as Walchak trains his eyes on the delicate task of bolstering the windows' protective lead bars and Lexan window covering.
The new sheets of Lexan, Walchak said, will protect the windows from being broken and won't yellow for at least 10 years.
"If somebody throws something at it, it will bounce off and hopefully hit them in the head," said Walchak, who runs a stained-glass restoration business out of Belton, Mo. Originally from Winona, Minn., which bills itself as the stained glass capital of the United States, Walchak was called on by the church to lead $30,000 in repairs in time for the 100th anniversary of the windows' installation. Walchak replaced the lead between the pieces of glass and the protective covering on the windows.
The church, founded in 1868, is also nearing the 100th anniversary of its present building. Clippings from the Eudora Weekly News inside the church tell how in 1913 a small congregation collaborated to chip in $8,000 to build the new church. A rededication ceremony is planned for May 2014.
Though pulling funds together isn't new to the congregation, the passage of a century has inflated the amount needed to overhaul something as delicate as stained glass.
Pastor Rod Nitz said the main west window of the building, over which Walchak spent several afternoons laboring in November and December, was purchased for slightly less than $500 in 1913. Today's replacement value of that window alone is $10,000, Nitz said.
"It's a meaningful part of this church," Nitz said, "and it really sets off the whole sanctuary."
Church secretary Karen Anderson Troutman said that Cherry McCabria, one of about 70 who make up the church's congregation, helped spearhead an effort that allowed the church to raise enough funds for a decent down payment. McCabria, Troutman said, lit up the phones to solicit donations from current and former church members, some living across the country. Some families, Troutman said, chipped in $50 checks every other week.
"How this little church rallied together to save these windows is a great way to remind people that there is still a church on Church Street," Troutman said.
Copyright 2018 The Lawrence Journal-World. All rights reserved. This material may not be published, broadcast, rewritten or redistributed. We strive to uphold our values for every story published.