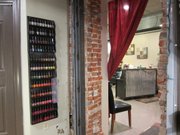 It's the time of year for holiday parties and Christmas photos. Everybody dresses in their finest, making sure their hair is styled just so and their nails are clean and trimmed.
Because many of us have been preoccupied with gifts, baking and sending holiday cards (or is it just me?), planning for a salon appointment just didn't happen. This often has an impressive effect on local salons; it can be somewhat difficult to squeeze in a hair trim or manicure when everyone else has the same thought as you (which is: Oh crap! I wonder if the salon has any openings tonight…)
Thank goodness that local salons, such as The Fix Salon, are properly prepared for the holiday rush. Located near Ninth and New Hampshire downtown, Fix offers hair and nail care, tanning and massage.
I popped into Fix on a weeknight around 6:45 p.m. — with no appointment, mind you — to request a manicure. Good fortune was on my side; I was warmly welcomed and promptly seated at the nail station. They have one nail technician at Fix, Adaiha, and she had just finished with an appointment when I stopped by. One detail that I appreciate about Fix is its hours: it's open until about 8 p.m. Tuesday-Friday, which definitely accommodates the typical work schedule. Without wasting any time, I chose a nail color and began soaking my cuticles.
As I was having my nails done, I noticed the charm and coziness of the interior space. The main hair salon area is separated from the manicure/pedicure area and massage room. This creates a sense of relaxation and intimacy. Sometimes the salon experience can seem a little overwhelming; walking into a busy salon where all the services take place in one large room can feel impersonal and, dare I say, stressed. It's quite the opposite at Fix. It's a personalized experience, which is evident the minute you walk through the door.
During the 45 minutes I spent at the salon, I felt pampered, enjoyed good company, and was impressed with the final result of my manicure. While I was initially hesitant to attempt a last-minute manicure (feeling certain I would be turned away because of a booked schedule), I'm so glad I gave Fix a try! My manicure was $17 ($21 after tip), and it served not only as prep for holiday partying but also as a much needed night of carefree enjoyment. With New Year's Eve around the corner, why not consider a little salon time?
— Jessica Pauly, aka Mrs. Mass., gives her thoughts on shopping, urban living and what's new in Lawrence in CheckOut weekly and on her blog, mrsmass.com.
Copyright 2018 The Lawrence Journal-World. All rights reserved. This material may not be published, broadcast, rewritten or redistributed. We strive to uphold our values for every story published.