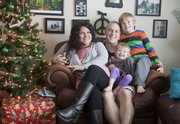 When Army Pfc. Tysen Fishback arrived at his Lawrence apartment Sunday evening, it "felt like a strange house to me," he said.
For the past seven months he has lived in Fort Benning, Ga., and Fort Bragg, N.C., as he has gone through basic training and exhaustive physical preparation for special forces selection, seeing his wife and two children only when they came to visit.
On Monday, after waking up in his apartment, now decked out for Christmas with a tree and gingerbread houses, for the first time since May, he has almost been able to forget he's in the Army.
His 6-year-old son Leo was so excited to see his dad back in their home that he was literally climbing the walls Monday, masterfully ascending a door frame using his bare feet and a jubilant disregard for the laws of gravity.
But Fishback almost didn't come home at all.
The original plan was for Fishback to fly home for Christmas. When the family car's transmission blew out while Fishback's wife, Patty, was driving on the highway, they had to nix that plan. "It just wasn't feasible" financially, Patty said.
Fishback was looking at a holiday break of cleaning detail and watchman duty at Fort Bragg, and telecommuting in for the family's Christmas. But Fishback caught a break.
Early in December he learned he would get a paid trip back to Lawrence through Operation Ride Home, a three-year-old program sponsored by Jack Daniel's and the Armed Services YMCA. The program provides travel tickets and funds so service members and their families can see each other during the holidays.
The $400 for travel through Operation Ride Home made it possible for Fishback to get some much-needed face time with his family. During the past months, Fishback has been in touch with Patty, Leo and 2-year-old daughter Dahlia through phone calls, Facebook, text messages and a video chat app called oovoo.
"We've been trying to sync our lives up as much as possible," Patty said.
Bright and early on Jan. 1, Fishback will fly back to North Carolina, and he'll be away from his family for nearly another six months. That makes the time back for Christmas all the more valuable.
The time with his family "makes it all worth it," Fishback said. "You definitely go back with a renewed purpose."
Copyright 2018 The Lawrence Journal-World. All rights reserved. This material may not be published, broadcast, rewritten or redistributed. We strive to uphold our values for every story published.