Winter Weather
Winter weather information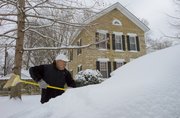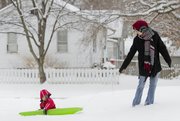 Saturday's winter storm left more snow than destruction in its path.
About 5 inches of snow fell in Lawrence in the past 24 hours, including about a half-inch of sleet that arrived before the snow, said Kris Sanders, a meteorologist with the National Weather Service's Topeka office.
Sgt. Damon Thomas of the Lawrence Police Department said he didn't know of any weather-related wrecks in the city Saturday night or this morning.
"It hasn't really affected us much at all," he said.
The same goes for much of the county. Lt. Blake McCall from the Douglas County Sheriff's Office said there were about 12 slide-offs along county roads and only a couple of accidents that required a report, none of them with injuries he was aware of.
"It's really pretty quiet for an average storm like this," McCall said.
Interstate 70 has seen the most weather-related accidents in the area.
Between Topeka and Kansas City on Saturday, there were about 12 crashes on I-70, one of them involving a nonfatal injury, said Dottie Conboy of the Kansas Turnpike Authority. From Lawrence to Kansas City before noon today, another eight accidents were reported, two of them involving injuries, neither of which were life-threatening.
In most accidents, drivers lost control of their vehicles and hit either barrier walls or guard rails.
"Some people don't understand you can't drive normal speeds" in wintry conditions, Conboy said.
While conditions on the Kansas Turnpike are still listed as packed with snow and ice, maintenance crews have been working continuously to clear the roadway since Friday evening, Conboy said.
Along with numerous church closings Sunday, Theatre Lawrence canceled its 2:30 p.m. performance of "Shrek," the Eagles Lodge canceled a 6 p.m. performance by the OURS Dance group and the Lawrence Humane Society was closed for the day.
Tonight and Monday morning could see more snow, but the chances are low -- about 20 percent -- and it would likely only amount to a dusting, Sanders said.
Copyright 2018 The Lawrence Journal-World. All rights reserved. This material may not be published, broadcast, rewritten or redistributed. We strive to uphold our values for every story published.